Ex-Knight Tommy Hanson of Atlanta Shuts Down Red Sox.
June 29, 2009
Rookie Right-Hander Runs Scoreless Inning Streak to 20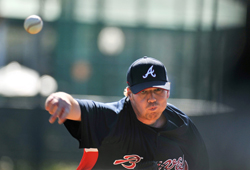 Former Knights' ace Tommy Hanson (pictured) of the Atlanta Braves improved his record to 4-0 by beating Boston 2-1 this past Sunday on National TV (WTBS). Hanson, who battled the flu, held the Sox to two hits at Turner Field to earn the win and lower his ERA 2.48.
Tommy has now beat the New York Yankees and Boston Red Sox in back-to-back starts.
The rookie from Redlands, California will look to extend his scoreless inning streak of 20 vs. the Washington Nationals on Indepedence Day.
Hanson pitched for the Knights in 2005 following his freshman season at Riverside City College and earned West Coast League Pitcher of the Year honors.