Ex-Knight New GM for Expansion Victoria Franchise.
August 22, 2012
Holly Jones to Guide Newest WCL Club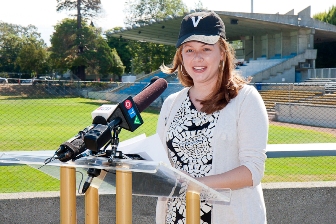 Former Knights' intern and assistant to the gm Holly Jones was named Victoria's first WCL general manager yesterday by team co-owner John McLean at a press conference at Royal Athletic Park in Victoria, British Columbia, Canada.
Holly will guide the expansion Victoria club in its first West Coast League season. With the addition of Victoria, the WCL grows to 10 teams.
Holly, a graduate of University of Oregon, interned for the then Aloha Knights in Gresham for two summers (2005-2006) as part of a partner program with the Warsaw Sports Marketing Center at UO. She was promoted to assistant to the general manager when the team moved to Corvallis in 2007, and helped with all facets of the business during the club's mid-valley launch and inaugural season at Goss Stadium.
Ms. Jones, the second female GM in the league, did an outstanding job working with the local media yesterday. Click here to watch last night's Vancouver Island CTV News broadcast. Holly gives a shout out to new Corvallis GM Bre Kerkvliet.
To learn all about Holly's new job, click here to read Island Sports News reporter Christian J. Stewart's article on Victoria's exciting new hire.
The Victoria Times Colonist also ran a feature article titled New Victoria baseball team turns to marketing guru as first GM.
A local blogger also wrote a complimentary piece on Victoria's first GM. Click here to read the blog entry at victoriasealsbaseball.blogspot.ca.
We have reprinted the entry below.
Victoria's WCL team names its first GM
Sometimes you can tell right away that a good decision has been made. You don't need to wait to see what happens, hear what others have to say about it... you just get that feeling. Tuesday morning at RAP was one of those moments. John McLean stood before the Victoria sports scene and announced that the position of General Manager for Victoria's new WCL team has be filled by... Holly Jones.
Who?
Not a big-name sports celebrity, not a famous washed-out ex-jock with a taste for the social scene, but a marketing professional. A proven successful veteran of not only the WCL where she was instrumental in establishing the Corvallis Knights - a team near the top of the league in both skill and attendance, but with a resume that includes the likes of the NBA front office, and JetBlue Airways.
She lists volleyball and tennis as her favourite sports growing up, not baseball. And really, does it matter? On most minor league teams, and absolutely in the WCL, the on-field management is done by the bench boss, not the front office. Holly's job here in Victoria is not managing players, but it's her sweet spot. It's marketing. It's community attachment. It's promotions and getting fans in the door. It's getting the team out into the community and making them part of the city. It's growing a team from the ground up, building solid relationships with the business and fan base of Victoria, and establishing a brand name.
Ho Jo, Victoria. Victoria, Ho Jo.
And that brings me back to that feeling of it just being right. She's not Holly Jones - big city marketing suit from New York, landed here to sell fridges to the northerners. She's Ho Jo. She's an Oregon Duck. She's a West Coast girl you would swear you grew up with. She's down home, has family in Langford, bought a house in Oak Bay. She's already made Victoria her home and she's here to stay.
She has a bubbly personality that makes you smile, makes you want to be part of the team. Listening to her go through the media scrum, she's practiced, she knows her stuff, but she presents herself as someone you want to see succeed because she's one of us. She doesn't have to fit in, it's like she's already here.
And that my friends, is what sells here in Victoria. It's clear that the ownership team of John McLean and Dwight Willett have done their homework again, and my guess is Victoria is going to fall in love with Holly Jones faster than you can say "Play Ball"!