Second Annual PEAK Internet Science & Art Day Draws Big Crowd.
June 5, 2013
2,278 Attend Knights' Home Opener vs. the Portland Lobos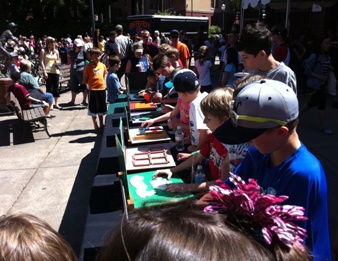 The Corvallis Knights second annual PEAK Internet Science & Art Day was very well attended by area elementary schools on a sunny and warm Tuesday.
Total attendance was 2,278, with over 1,700 elementary school students and teachers making up most of the crowd.
Fans browsed science and art exhibits before and during the game.
OMSI's exhibit (pictured) was popular with students. Kids enjoyed challenging puzzles while bathed in sunshine. The OMSI table stayed filled from opening to end.
OSU Colleges of Science and Engineering featured several exhibits at Goss Stadium manned by their students. Fans interacted with a range of demonstrations and experiments.
In the Goss plaza, Musicafe Rock School entertained with the art of rock, as guests enjoyed live music and interacted with young musicians.
The Drawing Board and Arts Center were also popular with the kids while the PEAK radar gun pitching and Sports Authority football toss stations stayed busy the entire game with lines of eager students all day.
In total, 18 elementary schools attended including Franklin (Corvallis), Muddy Creek (Corvallis), Philomath, Centennial (Scio), Ash Creek (Monmouth), Timber Ridge (Albany), Oak Grove (Albany), Sunrise (Albany), Takena (Albany), South Shore (Albany), Periwinkle (Albany), Liberty (Albany), Clover Ridge (Albany), Oak (Albany), Oak Heights (Sweet Home), Hawthorne (Sweet Home), Green Acres (Lebanon) and Hamilton Creek (Lebanon).
The day was filled with interactivity, sun and spirit. And by the way, the home team, the Knights, won 7-6 much to the elementary school kids delight.