Three-Year Knights' Veteran Max Beatty of Pacific Lutheran Featured in Baseball America.
September 18, 2012
Cancer Survivor Ready to Get Back to Work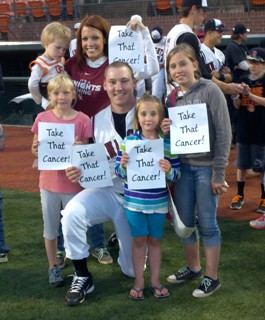 by Conor Glassey, Baseball America
When Max Beatty's name first appeared in Baseball America, it couldn't have come at a better time. In last spring's College Preview issue, we named Beatty the top NCAA Division III prospect in the country.
The righthander from Pacific Lutheran (Wash.) had a solid build at 6-foot-2 and 210 pounds as well as a four-pitch mix. What wasn't known at the time was that Beatty was battling testicular cancer.
"The timing on that was actually great because it just spurred him to want to get back to that same position again," Pacific Lutheran head coach Geoff Loomis said. "His goal is to play professionally and he wants to get back to that level. He has really good focus on what he wants to accomplish and I think that's why he stayed so positive, too."
Beatty, now cancer-free, is one step closer to reaching that goal. After nearly a year without pitching, he returned to the mound this summer with the Corvallis Knights in the West Coast League, and he'll pitch for Pacific Lutheran next spring as a redshirt junior.
Beatty said he first noticed a problem around Thanksgiving 2011. After the semester he went to a doctor, who diagnosed testicular cancer a few days before Christmas.
"At first, it's just one of those things that just hits you so hard," Beatty said. "I didn't expect it at all, so I was shocked at the beginning. But I just realized there's nothing I can do about it. The only thing I could do was stay positive, keep a high head and just know that everything will be all right."
In addition to being Pacific Lutheran's best pitcher, Beatty is also described as a free-spirited jokester who keeps things loose in the clubhouse.
"It hit us all really hard," Loomis said. "He was obviously in tip-top shape and pitching very well. His fall semester had ended and Max, just being Max, sent me a text message that said, 'Hey, I threw a bullpen at home that went really well and, on a second note, I've got cancer.' That was his way of breaking it to me, I guess. It just felt like I ran into a wall. All the air had been sucked out of me."
Shortly after the holiday, Beatty had surgery to remove both of his testicles. Doctors also recommended chemotherapy. The process consisted of treatment from 7 a.m.-2 p.m. for five straight days, followed by two weeks off. Beatty had to go through that cycle four times, so with that many appointments in Portland, he stayed home in Vancouver, Wash., for the second half of the school year.
"That was probably the toughest part of the whole deal, just missing baseball," Beatty said. "I just wanted to get out there."
Beatty said he handled the treatments well. He never lost his appetite, didn't lose any weight and didn't vomit once. He was able to see his teammates play a few times during the spring and played catch with his older brother, Sam, who also played at Pacific Lutheran.
Beatty's teammates showed their support by shaving their heads and wearing yellow rubber bracelets that read, "Max Strength."
"We wanted to do something special and it started out as just a team thing," Loomis said. "I wanted to get the guys some bracelets so they could remember the reason why they play baseball and just how precious life is and how quickly things that you love can be taken away from you. So we got them the bracelets to wear for the season, and it just kind of took off from there."
What started out as something for the team quickly spread as parents, fans, students and friends also wanted to show support. Loomis made more bracelets and sold them to raise nearly $500 that was donated to the American Cancer Society in Beatty's name.
"We have a family culture here and whenever somebody's in need, we've done a good job as a group of coming up with creative ways to help those people," Loomis said. "I was just proud to see our guys want to do something. Max is a special player. He's our best player. And I just think it was neat to see how mature our guys were about it. They didn't talk one time about the negative impact it was going to have on our season. Instead, it was just completely focused on Max and his family and how we can best help them deal with the problem."
Two of the Lutes' assistant coaches - both of whom also played for Loomis - have battled serious illnesses as well. Eric Stanczyk also overcame testicular cancer as a player, and Nolan Soete had aplastic anemia, a rare bone marrow disorder.
"Knowing what those two guys have been through, we were able to hook them up with Max so they could talk him through what to expect from chemo and the rehabilitation process," Loomis said.
Now healthy, Beatty returned to Corvallis this summer, where he also pitched in 2011. Even after about a year between outings, Beatty's velocity was still in the 89-92 mph range, and he even touched 93-94 occasionally.
Beatty worked hard on his conditioning and slowly but surely improved his stamina, even throwing a complete game late in the summer. He also started to regain the feel for his secondary pitches. Over seven starts and 40 innings, Beatty went 2-1, 4.02 with 20 strikeouts and 10 walks.
Beatty said his goal is to one day pitch professionally, but that overcoming cancer really put things in perspective for him.
"It's kind of cliche, but it really makes you see everything differently," he said. "It's weird to say, but I'm glad I had it, almost. It makes you so much stronger and I feel like, if I can do that, I have a lot of stuff ahead of me that I can do."