Big West Freshman of the Year Named WCL Prospect.
September 25, 2010
Corvallis Outfielder Mitch Haniger of Cal Poly Ranks #5 in Baseball America Top Ten List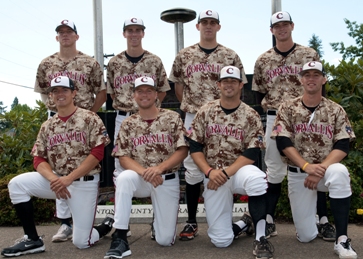 Corvallis Knights centerfielder Mitch Haniger of Cal Poly added to his frosh honors by being named the #5 rated WCL prospect by Baseball America (see below).
Haniger also earned first-team All-WCL honors and was named the Big West Freshman of the Year after an outstanding spring at Cal Poly.
Haniger is pictured with his Corvallis Knights teammates at the Benton County Memorial in Corvallis. (Top row, l-r: Dustin Emmons of UC Riverside, Matt Duffy of Long Beach State, Matt Boyd of Oregon State, Haniger. Bottom row, l-r: JK Dykes of Washington State, Dean McArdle of Stanford, Nick Hoover of UC Irvine, Dylan Jones of Oregon State).
West Coast League Top Ten Prospects
by Conor Glassey of Baseball America
September 9, 2010
Postseason recap: For the fourth time in the league's six-year existence, the Wenatchee AppleSox brought home the West Coast League championship. Fittingly, the AppleSox have the most prospects on this list. The AppleSox beat the Bthe Bend Elks in the best-of-three championship series 2-1 to win the league title for the second consecutive year. Wenatchee finished the season with the second-best record at 29-19, behind Corvallis' 31-17.
This year marked the first season for the Cowlitz Black Bears and the Walla Walla Sweets, giving the league nine teams. The added teams brought additional talent to the league, and several players just missed making the list, including Corvallis righthander Mitch Patito (So., UC Riverside), Corvallis lefthander Matt Boyd (So., Oregon State), Bend righthander James Nygren (Sr., Oregon State), Bend infielder Tommy Richards (Jr., Washington State) and Walla Walla catcher Elliot Stewart (Jr., Cal Poly). The league will expand again next year, adding a 10th team in Klamath Falls, Ore.
1. Stefan Sabol, c/3b/of, Cowlitz (Fr., Oregon)
For the second straight year, the West Coast League's top prospect is a just-graduated high school catcher from California on his way to a school in Oregon. Last year it was Oregon State's Andrew Susac, and this year it's Sabol. Sabol was one of the best athletes in last year's draft. With his chiseled, 6-foot-1, 200-pound frame, it's no surprise that he is the cousin of Pittsburgh Steelers all-pro safety Troy Polamalu. In a league full of college sophomores and juniors, Sabol still looked like a man among boys, physically. An Aflac All-American last summer, Sabol came into the spring as one of the top high school players in the class, but slipped to the Braves in the 17th round because of his strong commitment to Oregon and questions about his future position. Sabol has five-tool potential to go along with just passing the eye test. But despite his athleticism, Sabol is stiff behind the plate, and his arm strength doesn't translate well there, either. He started just five games at catcher this summer, spending most of his time at third base. Sabol does have good baseball instincts and is a hard worker, so there's a chance he can improve enough to stay at either of those positions, but some scouts believe he'll eventually wind up in left field. But that's okay, because his bat should play anywhere. He always has a plan at the plate and waits for his pitch. Sabol has a short, powerful swing and strong hands and forearms. He can drive the ball to the gaps with ease and has pull power now, which should expand as he continues to mature.
2. Chase Anselment, c, Kitsap (So., Washington)
Anselment went undrafted out of high school in 2009, but it wasn't for lack of interest. The 5-foot-11, 210-pound catcher just had a strong commitment to Washington, so teams didn't want to waste a pick on a virtually unsignable player. Anselment showed why scouts were interested, hitting .347/.421/.581 over 124 at-bats for the Huskies last year as a freshman, leading the team in all three categories. While he is thicker and not as athletic as Sabol, Anselment has a better chance to stay behind the plate. That said, Anselment is a little stiff on his backhand receiving and, although his arm strength is good, he sometimes stands up too much on throws to second base. Anselment's father has a black belt in karate, so Chase knows the importance and value in stretching and is more limber and agile than most players his size. Anselment has a good understanding of the strike zone and when he gets his pitch, he puts a charge into it. While most home runs in the league are hit to a player's pull side, Anselment showed his strength by hitting home runs to both outfield gaps. Despite his strength, he doesn't sell out for power. He's a good enough hitter to shorten up and lace a single the other way, when the situation calls for it.
3. Jeff Ames, rhp, Wenatchee (So., Washington) Ames has gotten better each year, something scouts always love to see. As a high school senior in 2009, the 6-foot-4, 210-pounder sat mostly at 86-88 mph with his fastball. He was originally committed to Oregon State, but went the junior-college route instead, pitching last year at Lower Columbia (Wash.) CC, where his fastball was mostly in the low 90s. Normally a starter, he mostly came out of the bullpen this summer and was electric. His fastball was 92-95 mph and he even touched 97, while also mixing in a hard slider. Coming out of the bullpen, Ames primarily focused on those two pitches, but he has shown a changeup in the past. Ames has a loose arm but still needs to tighten up his command. He went 0-1, 2.78 with 38 strikeouts and 10 walks over 32 innings this summer. Ames will pitch for Washington next spring.
4. Scott Griggs, rhp, Bellingham (So., UCLA)
Griggs was one of the top prospects in the country heading into his senior year of high school, but an inconsistent spring coupled with a strong commitment to UCLA saw him slip to the 34th round in the 2009 draft, when the Mariners took a flier on him. He wound up on campus, but didn't get into many games as a freshman, going 0-0, 6.75 with 10 strikeouts and eight walks over eight innings. His main goal this summer was to try and get stretched out and work on his pitches for a possible starting job with the Bruins next spring. Griggs threw his fastball in the 92-94 mph range and touched 96 this summer. When he got extension on his changeup, it showed flashes of being a plus pitch, too. The biggest thing Griggs worked on this summer was his changeup. He was gripping it like a four-seam fastball, but Bellingham head coach Kevin Matthews got him to switch to a horseshoe grip, which created more movement on the pitch and gave Griggs a better feel for it. Griggs does need to work on throwing more strikes. This summer, Griggs went 0-2, 6.00 with 26 strikeouts and 19 walks over 21 innings.
5. Mitch Haniger, of, Corvallis (So., Cal Poly)
Haniger is a good athlete at 6-foot-2 and 190 pounds. In addition to baseball, he was also a standout wide receiver in high school and could have played football at the collegiate level. But he chose wisely, as he could have a bright future in professional baseball. Drafted in the 31st round out of high school, Haniger went to Cal Poly, where he put together a very nice freshman year, hitting .326/.386/.539 over 178 at-bats. Haniger doesn't run quite as well as you'd expect from a former wide receiver, as he's only an average runner, at best. But he does get good jumps on balls and profiles as an everyday right fielder because of his impressive arm strength and raw power. Although he only struck out 13 times over 134 at-bats this summer, Haniger's pure hitting ability is fringy. He has quick hands and the bat speed to get around on big league velocity. If everything clicks, he has the power to hit 20 home runs at the next level.
6. Marco Gonzales, lhp, Wenatchee (Fr., Gonzaga)
Another youngster in the league, Gonzales was a 29th-rounder by the Rockies out of high school in June, but he didn't come to an agreement with his home-state team. The 6-foot, 190-pounder throws his fastball in the upper 80s, touching 91. His best pitch is a changeup, an above-average offering that he sells with the same arm slot and speed as his fastball. His curveball is solid and he shows great body control and command of his pitches. Gonzales' father Frank was a lefthander who spent eight years in the minor leagues, mostly with the Tigers. The know-how rubbed off on Marco, and with his well-above-average feel for pitching and poise, Gonzales looked more like a college senior than a high school senior this summer. He went 5-1, 2.77 for the AppleSox and he led the league with 66 strikeouts over 52 innings. Gonzales is a proven winner who was on the mound four straight years as his high school team won the Colorado state championship game, and he should make an immediate impact at Gonzaga.
7. Royce Bolinger, of, Kelowna (Jr., Gonzaga)
Bolinger comes from a family of athletes. His father Monte spent five years in the Cardinals organization, reaching Double-A, and his uncle Russ was an offensive lineman for nine years in the NFL with the Lions and the Rams. Royce has an athletic, 6-foot-2, 200-pound frame and some exciting tools. He shows some strength at the plate and runs pretty well for his size, but his loudest tool is his arm. He opened some eyes by throwing a runner out at home from the warning track in one game, and the Falcons even put Bolinger on the mound for one game. This isn't completely new to him, as he's pitched in high school and made two appearances at Gonzaga. While he's raw on the mound, it does give him a nice fallback option if things don't work out as an outfielder.
8. Kerry Jenkins, of, Bend (Sr., San Jose State)
Jenkins had one of the most impressive bodies in the leagueŚa linebacker's build with broad shoulders, strong thighs and huge forearms. While he's already a physical specimen at 6-foot-2, 205 pounds, his body is not maxed out and he still has room on his frame to add another 10-15 pounds of muscle. Jenkins also moves well, especially for his size. He's an above-average runner and shows at least average arm strength. His strength also showed up at the plate, where he could turn on velocity and punish fastballs if pitchers left them in the zone. He would, however, chase fastballs up and showed little ability to hit offspeed stuff, which likely explains why he hit just .270/.311/.450 as a junior last year at San Jose State.
9. Collin Bennett, of, Wenatchee (Jr., Hawaii)
Bennett started his college career at Tacoma (Wash.) CC before transferring last year to Hawaii, where he hit .323/.408/.489 for the Rainbows. He's a good athlete at 6-foot-1, 205 pounds, and while he doesn't really have one standout tool, he can do a little bit of everything. Bennett is playable in center field but profiles better on one of the corners. His reads in the outfield need to improve, but he showed above-average arm strength. Bennett has a patient approach at the plate, punishes pitchers' mistakes and can drive the ball to all fields.
10. Dayne Quist, lhp, Kelowna (Jr., UC Davis)
Quist may only be 5-foot-9 and 160 pounds, but he pitches with the tenacity of a 6-foot-5 power pitcher. His fastball sits in the upper 80s and he mixes in a curveball and a changeup. While he doesn't quite have Gonzales' stuff, he can throw any of his pitches for a strike whenever he wants. His fearlessness, command and ability to mix three pitches really keeps hitters off balance and helps his stuff play up. Quist went 6-1, 1.40 with 50 strikeouts and 18 walks over 50 innings. He ranked first in the league in wins, first in ERA, third in average against and third in strikeouts. He'll be a fourth-year junior at UC Davis this year.