Host Families Make Summer Fun.
November 17, 2008
Knights Look to Grow Host Family Program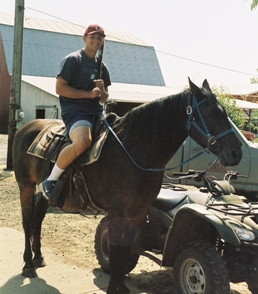 The Corvallis Knights launched its first host family program last summer. Seven families signed up and housed a total of 9 players and a coach.
"I think we hit 7-for-7 in our first season," said team president Dan Segel. "The feedback was great, and it was neat seeing the host families at all the games."
The Knights hope to add host families to this year's roster. Segel said, "It's another way to get the community involved. They adopt these players and it gives them a deeper connection to the team.
"Probably the most rewarding part of the deal is the relationship. These relationships usually become long term and it is also fun to follow your player as they progress in college and in the pros, they become family."
"We had a great experience being a host family for Doug (Cherry). If there was a down side, it was that we didn't see him very much. He was out of town half the time and when he was here, our work schedules and his workouts meant that we were like passing ships," said Vickie and Keith Taylor, Doug Cherry's host family.
"He was always respectful of others in the house and was willing to help out with small chores like letting the dogs out. His parents and girlfriend came down from Seattle on several occasions and we became friends. They would sometimes stay at our house. We recently returned from a visit with them up in Seattle.
"We also got to know several other host families and parents of players. We even started tailgating together before the playoff games!
"When you know the players and their families the games become more fun because you have a personal stake in them."
This summer's host families get two complimentary reserved season tickets and a team cap for hosting.
The players arrive in mid-June, head home in mid-August and are in town for a little over 30 days.
The club's inaugural host families were Robyn and Reed Anderson, Bob Knight and Nancy Kerkvliet, Cindi and Russ Peterson, Steve and Jackie Ramsing, Carlyn and Jeff Roy, Vickie and Keith Taylor and Robert and Marcie Thornberg.
Ian Bridges (pictured) rode his first horse on the Anderson's Brownsville ranch. Ian is from Southern California.
"It was an opportunity to get to know the players off the field. A great group of guys! That is what was most enjoyable for me," said Russ Peterson, who hosted Billy Clontz and Josh Hogan.
The players really enjoy the comforts of home and become attached to their host families.
Dean Green of Oklahoma State lived at the Roys. He missed Tulsa, Oklahoma, but Carlyn and Jeff made him feel like part of the family.
"I enjoyed the Roy's so much. After this summer, I can honestly say that I consider them part of my family. I don't think I could find a nicer host family," said Dean Green.
Robert Thornberg of Corvallis hosted Chris Brookey, another Southern California native. Robert throughly enjoyed being part of the team.
"We have experience as a host family through several exchange and other programs. This was by far the easiest hosting experience we have ever had. Watching Chris through the summer, meeting his family and helping in a very small way was enjoyable and rewarding. Comparing stories with the other host families at the games was also fun. Realizing how different yet how much alike all of the boys were made it even more of a positive experience," said Robert.
"The first four nights Chris was with us he and I stayed up until midnight and later talking about baseball. Marcie said that she had never seen me happier. I had to finally quit waiting for him to get home after games so that I could get some sleep. We spent many more hours talking baseball, college and life. I hope he received a tenth of the pleasure out of the experience as we did.
"It was so much fun watching the boys all summer. Marcie enjoyed meeting them and following them from the personal side. I enjoyed meeting them and learning about their baseball journeys. Watching the progress through the highs and lows of the baseball season was rewarding. Watching Chris pitch made us feel as proud as if he was one of our own kids. We got to where we felt that way about all of the boys."
If being a host family sounds like fun, contact Dan Segel at dan.seg[email protected] for more information on the program.
"The Knights are a great organization and an asset to the community. If you've got a spare bedroom and like going to baseball games I recommend being a host family for the Knights," stated Vickie and Keith Taylor.