Six ex-Knights to Finish Season in Major Leagues.
September 12, 2010
Chris Stewart of San Diego, Brent Morel of the White Sox and Bobby Scales of the Cubs are September Callups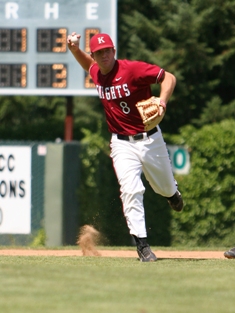 Chicago White Sox third baseman Brent Morel (pictured playing third base for the Knights in 2006) was one of three ex-Knights that were called up in September to the big leagues. While Morel made his major league debut, Chris Stewart of the Portland Beavers and Bobby Scales of the Iowa Cubs made their way back to the majors.
Stewart also made his debut with the Chicago White Sox (in 2006), and later appeared with the Texas Rangers and New York Yankees.
Long-time minor leaguer Bobby Scales broke through with the Cubs last season.
Morel, Stewart and Scales join big league starting pitchers Tommy Hanson of Atlanta, Bud Norris of Houston and Marc Rzepczynski of Toronto as active MLB players who spent summers playing collegiately for the Knights.
Morel (Cal Poly) and Rzepczynski (UC Riverside) were summer teammates in 2006 and Hanson (Riverside CC) and Norris (Cal Poly) were the #1 and #2 pitchers on the 2005 Aloha club.
Stewart (Riverside CC) was the Pacific International League MVP in 2001. The frosh catcher led Aloha to a franchise-best 54 wins and signed with the White Sox at the conclusion of the season.
Scales (University of Michigan) led the Knights in hitting with a .379 batting average in 1997.
Morel hit .284 with 8 doubles, 1 home run and 21 RBI for the Knights in 2006 and was named Team MVP as Brent played stellar defense at both third base and shortstop and led by example. He is the only ex-Corvallis Knight to have reached the majors as Morel made three starts, all at Goss Stadium, for the 2007 team.
Brent made his MLB debut Tuesday, September 7 pinch-hitting vs. the Tigers at Comerica Park in Detroit. Morel's first start was Thursday, September 9 at Detroit and his first hit was a solo homer at U.S. Cellular Field vs. the Kansas City Royals on Friday, September 10.
Hanson, Norris and Rzepczynski all pitched this past week. Hanson (9-11, 3.54, 156 K, 30 starts) tossed seven solid innings vs. St. Louis yesterday, but did not get the decision in the Braves 6-3 extra-inning win. Tommy struck out 5 while walking none and allowing two runs on five hits. Norris (7-8, 5.16, 133 K, 23 starts) beat the Los Angeles Dodgers this past Thursday. Bud twirled 6 innings and allowed one earned on three hits while striking 7 and walking four as the Astros beat LA 3-2 at Minute Maid Park. Rzepczynksi (1-4, 6.47) dropped his last start as the visiting Texas Rangers topped the Jays 8-1 on September 8. Marc pitched 5 innings and allowed 3 runs on 7 hits.
Seven alums have now made it to the big leagues after playing summer college ball with the Knights including the aforementioned and Mike Thurman of Oregon State who made two starts for Aloha in 1993 and went on to pitch in the major leagues with the Montreal Expos and New York Yankees.
Many Knights' alumnus are progressing in the minor leagues, all with big league dreams.
Infielder Robby Hudson (2003-2004, Texas) made the jump from AA to AAA and started for much of the summer for the Charlotte Knights, an affiliate of the Chicago White Sox. Robby hit .227 with 17 doubles, 7 home runs and 28 RBI.
Andy Jenkins (2002-2004, Oregon State) accumulated 76 at bats in AAA with Oklahoma City, an affiliate of the Texas Rangers. Jenks hit .266 at AAA and .239 with 21 doubles, 10 HR and 50 RBI for AA Frisco.
Relief pitcher Garrett Parcell (2005, Cypress College) made 53 appearances for Jacksonville, the AA affiliate of the Florida Marlins. Parcell went 5-7 and posted a 3.36 ERA while striking out 61 over 75 innings pitched.
First baseman Matt Hague (2005, Washington) hit .295 with 30 doubles, 15 home runs and 86 RBI for the Altoona Curve, the AA affiliate of the Pittsburgh Pirates.
Relief pitcher Daniel Turpen (2005, Oregon State) was traded from San Francisco to Boston and finished the season with the Sox AA affiliate Portland where Turpen made 12 appearances, registered 3 saves and went 3-1 while striking out 18 over 18 1/3 innings pitched and posting a 4.91 ERA for the Sea Dogs.
2008 Pitcher of the Year Jon Berger (San Diego State) made a start September 3rd for the Portland Beavers at PGE Park. The Beavers were the San Diego Padres AAA affiliate (the team is moving in 2011).
Outfielder Adam Melker (2008-2009, Cal Poly) turned in a solid first pro season hitting .309 for the Batavia Muckdogs of the New York-Penn League. Batavia is a Class A Short Season affiliate of the St. Louis Cardinals.
2009 and 2010 Big West Pitcher of the Year Daniel Bibona (2007, UC Irvine) was sharp in his first pro summer for the Cardinals going 4-0 over 8 appearances (5 starts) while posting a 1.91 ERA and striking out 39 over 33 innings pitched for the Quad Cities River Bandits of the Class A Midwest League.
2007 Corvallis Knights Team MVP Jim Murphy (Washington State) hit .239 with 29 doubles, 6 HR and 43 RBI for the Clearwater Threshers, a Class Advanced A affiliate of the Philadelphia Phillies.
Outfielder Jared Prince (2006, Washington State) hit .270 with 29 doubles, 8 home runs and 75 RBI for the Hickory Crawdads, a Class A affiliate of the Texas Rangers.
The Lakewood BlueClaws of the South Atlantic League, a Class A affiliate of the Philadelphia Phillies, featured two ex-Knights in Eric Massingham (2006-2007, Cal Poly) and Matt Way (2007, Washington State). Massingham made 34 appearances (1 start) and went 5-2 with a 3.52 ERA. Way went 7-4 over 15 appearances (14 starts) and struck out 81 over 86 1/3 innings pitched while posting a 3.65 ERA.
Nick Akins (2007, Riverside CC) of the Ogden Raptors of the Pioneer League hit .331 with 15 HR and 45 RBI. The Raptors are a rookie league affiliate of the Los Angeles Dodgers.
Eric Stolp (2003, University of the Pacific) went 6-8 and posted a 4.86 ERA for the San Jose Giants, a Class Advanced A affiliate of San Francisco, over 31 appearances (12 starts).
Southpaw Blake Keitzman (2007, Oregon State) went 3-1 with a 2.87 ERA for the Casper Ghosts of the Pioneer League. In his first pro season, Blake made 16 appearances while striking out 37 over 31 1/3 innings pitched for the Rockies rookie league team.
Second baseman Drew Garcia (2007, UC Riverside) hit .253 with 29 doubles, 9 HR and 70 RBI for the Winston-Salem Dash, a Class Advanced A affiliate of the Chicago White Sox.