Former Knight Southpaw Debuts in Big Leagues.
July 8, 2009
Marc Rzepczynski Makes First Start for Toronto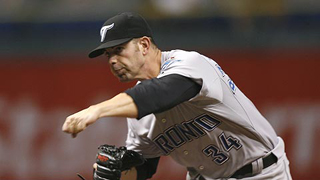 Ex-Knight Marc Rzepczynski (pictured) of UC Riverside made his major league debut for the Toronto Blue Jays on Tuesday, July 7, 2009.
The southpaw started vs. Tampa Bay and went 6 solid innings.
Marc got a no decision as the Jays dropped an extra-inning affair 3-1 at Tropicana Field in Tampa.
Rzepczynski only allowed two hits and one run while walking four and striking out 7.
Zep starred for the Knights in 2006. He was named the team's top pitcher and earned second-team All-West Coast Collegiate Baseball League honors.
As a Knight, Marc went 6-0 with a 2.25 ERA and struck out 58 over 52 innings pitched.
Before being called up on Tuesday, Zep was a combined 9-5 in AA (New Hampshire) and AAA (Las Vegas) this season while posting a 2.66 ERA and striking out 104 over 88 innings pitched.
Rzepczynski solid in debut, but Jays fall by MLB.com