Knights Earn #4 Ranking.
July 8, 2009
Corvallis Moves Up Two Spots in Perfect Game Crosschecker National Poll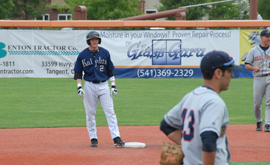 The Corvallis Knights were ranked for a second straight week by Perfect Game Crosschecker. The Knights moved from #6 to #4 in the national poll released on Wednesday, July 8.
Corvallis is 23-4 overall and 17-4 in the West Coast League.
The Knights are 18-1 at Goss Stadium.
Senior-to be infielder Doug Cherry (pictured in a Knights' nineties retro jersey) of University of Washington is one of four returning starters also including senior-to be second baseman Josh Hogan of Oregon, senior-to be utility man Billy Clontz of Western Oregon and junior-to be shortstop Richie Jimenez of UNLV that are leading Corvallis to new heights.
Corvallis set a new franchise record by recently winning 18 consecutive games. Currently, the Knights have won 20 of its last 21 games.
As of Wednesday, July 8, Corvallis led the league in hitting with .302 team batting average and in defense with a .979 team fielding percentage.
The Knights team ERA of 2.56 is the league's lowest.