Corvallis Knights Promote Assistant GM.
August 16, 2012
Bre Kerkvliet First Female GM in WCL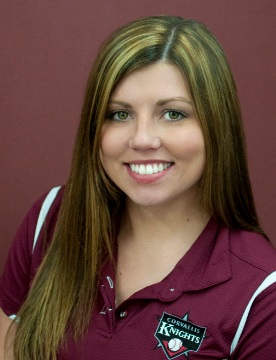 The Corvallis Knights of the West Coast League have promoted Bre Kerkvliet to general manager, president Dan Segel announced Thursday. She will become the first female GM in the WCL.
A Corvallis native and a graduate of Corvallis High School and Oregon State, Kerkvliet was the team's assistant general manager and director of business development for the past two seasons.
She will now oversee the day-to-day operation of the Knights, while continuing her role in business development.
"I am very excited for my new position," said Kerkvliet, 26, who has worked for the Knights since the team moved to Corvallis from Gresham in November, 2006. "From Day 1, Dan has helped me progress to this position and it feels great to achieve this goal.
"I look forward to continuing to build our fan and sponsorship base in the mid-valley, and to making sure everyone gets out to Goss Stadium at least once a summer and has a great time."
Kerkvliet interned with the team in 2007 and 2008 as an Oregon State student. She became the club's first full-time employee in 2009, shortly after she graduated from OSU with a degree in speech communications.
"We are excited for Bre and we are sure she will bring the tremendous energy and passion she showed in her previous positions to her new role," Segel said. "Bre has worked in every level of our organization, shares our core values, understands the product and what makes the club tick, and how to make it better.
"She grew up in Corvallis and is very involved with her hometown, and with our neighboring communities, through Rotary and other service organizations. We feel the time is right for her to take on more responsibilities, and to help take the Knights to another level."
Kerkvliet assumes her new duties today (August 16). Segel will continue as team president and focus more of his efforts on planning, corporate & group sales, special projects, player recruitment, partner relations and mapping the future for Knights Baseball Club, Inc. and the Corvallis Knights.
"I'm extremely happy for Bre," said Knights' head coach Brooke Knight. "Through perseverance, hard work and Dan's guidance and mentorship, Bre has earned the opportunity to continue to help guide this organization."