Corvallis Finishes Strong, But Comes Up Short in WCL Championship Series.
August 21, 2012
Knights Conclude Season Ranked #21 in Nation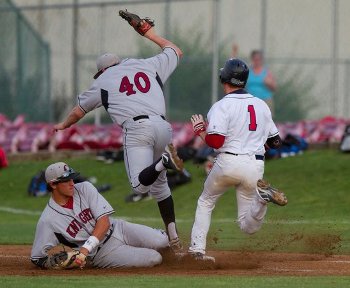 Knights complete another banner season - by Brooks Hatch
An 8-3 loss to the Wenatchee AppleSox in Game 3 of the Championship Series after the Knights took Game 2 (pictured are Knights' starting pitcher Greg Mahle and first baseman Nick Torres hustling to first to record the out on UCLA frosh-to-be Tyler Moore in the Corvallis 6-2 Game 2 victory at Paul Thomas Sr. Field) prevented the 2012 Corvallis Knights from repeating as West Coast League champions.
But the team's sixth summer in Corvallis was successful on almost every front. They went 40-24 overall and were ranked No. 21 in Perfect Game USA's final college summer baseball Top 50 rankings.
The Knights claimed the West Division pennant for the sixth year in a row, and then swept Cowlitz in the West Division playoffs to advance to the Championship Series for the fifth time in the past six seasons.
They also had a WCL West-best seven all-stars; pitched the team's first no-hitter since the inception of the WCL, and came within a whisker of setting an all-time attendance record for the sixth straight season.
"What a run by a special group that responded well to a tough midseason stretch," Knights' president Dan Segel said. "We were so, so close to back-to-back titles, thanks to an extraordinary effort by our players, coaches and staff."
The Knights started quickly and a 12-game winning streak left them at 18-6 and well ahead of their West Division challengers. However, a team-record seven-game losing streak from July 2-7 enabled Bend and Klamath Falls to get back into contention and both teams had a chance to take the lead with wins over the Knights.
Corvallis led Bend by 1/2-game before a 5-3 victory over the Elks on July 19. And the Knights held a slim one-game edge over Klamath Falls before a 10-1 rout of the Gems on July 26 at Goss restored a two-game bulge.
At that point, the Knights caught fire. They went 8-2 in their final 10 WCL games to comfortably capture the division title. They then eliminated Cowlitz before falling to Wenatchee in the third game of a very competitive Championship Series.
"Our hats are off to the Wenatchee AppleSox," Segel said. "They are a first-class operation and fielded yet another outstanding team this summer."
The Knights had many other highlights:
* They won 40 games for the third time in history (40-24) by going 32-22 in WCL games, 5-0 in nonconference games, and 3-2 in the playoffs.
* Corvallis drew 41,834 fans, the second-highest total in franchise history, with three crowds of 2,100 or more. They averaged 1,300 fans per league game, third-best in the WCL.
* Outfielder Connor Hofmann of Oregon was named the WCL All-Star Game MVP. Austin Barr, Jorge Perez, Rob Dittrick, Caleb Whalen, Nate Blackham and Devon Barker also made the all-star team.
* Greg Mahle of UC Santa Barbara pitched the first 9-inning no-hitter in Corvallis Knights history against Cowlitz on Aug. 3.
* The Knights led the WCL in ERA (2.81), and set a WCL record for stolen bases (105). Pitcher Rob Dittrick of Pacific led the WCL in ERA (1.10); infielder Marc Gallegos of Corban led the league, and set a team season record, with 21 steals in WCL play and 25 overall.
* Fourteen current, former or future Knights were selected in the 2012 Major League draft.
"We're fortunate to play in such a competitive league, at such a cool park like Goss Stadium, and to have the support of the best host families in the league," Segel said.
"Speaking for the entire organization, we thank you, the fans, for coming out this season. I know the weather wasn't always the best, but we nearly matched last year's record attendance and Goss Stadium was once again the place to be June through August in the mid-valley.
"See you in 2013."
The WCL will release its MVP and other post-season honors here soon. And, the league will have a new look next season, as expansion franchises will be added in Victoria, B.C., and in Medford. The 2013 schedule will be unveiled in November, 2012; the All-Star Game will be in Cowlitz or Klamath Falls.
The Knights will begin signing players for next season in September. Several players from the 2012 team are expected to return for another summer in Corvallis.