Ex-Knight Tommy Hanson Sets Atlanta Rookie Record for Strikeouts in Game
July 21, 2009
Knights Alum Marc Rzepczynski of Toronto Earns First Big League Win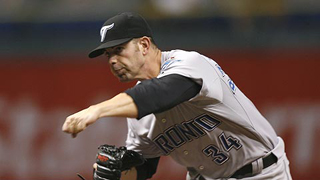 Former Knights Tommy Hanson (Riverside CC) of Atlanta and Marc Rzepczynski (UC Riverside) of Toronto set big league miletones yesterday and this past Saturday, respectively.
Hanson set a Braves rookie record for strikeouts in a game with 11 vs. the Giants last night and earned his fifth win vs. no defeats as the Braves beat SF 11-3.
Big inning rewards Hanson's record night MLB.com
Rzepczynski (pictured) tossed six solid innings vs. the Boston Red Sox, allowing only 4 hits and a run while striking out 4, in the Jays 6-2 home win over the Sox to earn his first victory as a big leaguer.
Jays' bats fuel Rzepczynski's first win MLB.com
Hanson was named the Knights' "Top Pitcher" in 2005 and Rzepczynski earned the same honor in 2006.