Knights Sign PLU Pitcher Bishop, Columbia Outfielder Craig.
September 27, 2012
South Eugene Grad Craig Will Be Knights' First Ivy Leaguer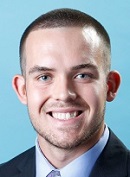 The Knights have signed their first two players for the 2013 season, general manager Bre Kerkvliet announced Wednesday.
The newest Knights are Chris Bishop, a sophomore right-handed pitcher from Pacific Lutheran University who played briefly for the 2012 Knights, and Gus Craig (pictured), a sophomore outfielder at Columbia University.
Bishop (5-11, 185) was 0-0 with a save, six strikeouts and a 1.12 ERA in eight innings over three games for the 2012 Knights as a 10-day signee. He was 3-3 with a 4.40 ERA and 40 strikeouts in 59.1 innings at PLU as a freshman in 2012.
He was a four-year letterman in baseball and football, a two-time Evergreen League MVP, and a three-time all-state pitcher and outfielder at Rochester High in Centralia, Wash., before enrolling at PLU.
Craig is a 6-foot-2, 210-pounder from Eugene. He hit .182, with no homers and four RBIs, for Columbia as a freshman in 2012 and then hit .255 in 48 games for the Torrington (Conn.) Titans in the Futures League, with a one homer and 19 RBIs.
Craig lettered in baseball, basketball and football at South Eugene and was a team captain in each sport. He was a four-time Midwest League all-star in baseball and hit .417 as a senior.
The Knights will open their seventh season in Corvallis next June. The 2013 schedule will be released in November.