Knights Ready to Play Ball.
May 29, 2013
Corvallis Opens 2013 WCL Season at Wenatchee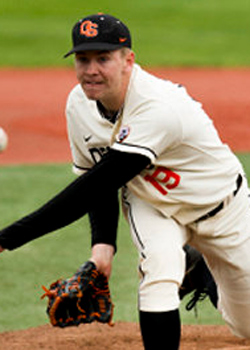 The Corvallis Knights should again contend for the West Coast League championship.
Says who?
Says team president Dan Segel and coach Brooke Knight, that's who.
They're confident the Knights have assembled a balanced, talented club with the right mix of pitching, offense and defense to extend the Knights' string of consecutive division titles to seven years in a row.
"I don't see any reason why we shouldn't contend," Segel said. "We have a quality club, and we have a quality coaching staff," with sixth-year head coach Brooke Knight, third-year pitching coach Connor Lambert and third-year assistant coach Billy Clontz, who returns to the Knights after a one-year stint with the Klamath Falls Gems.
"Those three guys mesh well, and they are the masters of fostering chemistry."
The Knights begin Year 7 in Corvallis on June 4th with a nonconference game against the Portland Lobos at Goss Stadium. They open the 54-game West Coast League regular-season at Wenatchee the following night in a rematch of last year's WCL Championship Series participants.
"Once again, we are excited about our 2013 lineup and the depth we have on our pitching staff," Knight said. "We have established a strong tradition of recruiting quality arms to complete our arsenal on the mound. We also look to have some punch in the lineup behind the plate and at the corners of the infield.
"Defensively, I really like our club. We should be able to win a few games along the way due to sound defense in the infield and the outfield."
Corvallis kicks off the home portion of the league schedule against Kitsap on June 12. The regular season ends on Aug. 11 and the opening round of the two-round WCL playoffs start on Aug. 13.
The coaching staff will have a familiar look. Pitching coach Connor Lambert returns for his third season, and Billy Clontz is back after a one-year hiatus at Klamath Falls.
"I'm also excited about our staff," Knight said. "We are all another year seasoned, and we should be able to offer some real value to our student-athletes."
The 37-man roster features seven returnees and six 10-day signees who will give the Knights plenty of depth until all of the full-time players report when classes end at their respective colleges, or when their teams are eliminated from NCAA postseason play.
"I think we're going to be pretty good," Segel said. "We might see some home runs, and some balls in the gap," as frosh catcher Brian Mundell (Cal Poly), sophomore first baseman Kevin Kline (Dixie State) and frosh outfielder Joseph Duffin (UCSB) all have considerable pop in their bats.
"Brooke and I got to see Mundell take batting practice at Cal Poly last fall, and I think he's got more power than Taylor Ard," a 2009 Knight who holds most of the club's power records. "(Cal Poly coach) Larry Lee says Brian is a special, special hitter."
The infield will be anchored by frosh Peter Van Gansen (Cal Poly), sophomore Michael Lucarelli (Portland) and returnee Chris Rabago (UC Irvine), the Knights' best hitter in the 2012 playoffs and team's Joe Segel Hustle Award winner.
"We'll have outstanding middle infield play. I like having three starting Division I shortstops on the squad," Segel said. "All three have been impressive defensively this spring."
The Knights suffered a major blow in March when their projected starting second baseman returnee Marc Gallegos of Corban suffered a shoulder injury that will sideline him for the summer. Gallegos set a franchise record for steals (26), was second on the team in runs (36), was all-WCL in 2012 and was expected to be a team leader on and off the field in 2013.
Corner infielder Kline gives the Knights another big bat to complement Mundell. He hit .349, with six homers and 40 RBIs, in his first season with the Red Storm after transferring from Southern Utah. First baseman Gabe Clark played sparingly as an Oregon State freshman but he's eager to make his mark and get at bats. University of Portland sophomore Cody Lenahan was a season-long starter at second base for the Pilots and hit .300 with 9 doubles and 18 RBIs.
"Kevin Kline swings it," Segel said. "(Former Oregon State assistant) Ryan Gipson spoke very highly of him, and said (Kline) has a very high aptitude to hit the baseball."
The Knights should also be strong in the outfield, with the late addition Blake Drake, a sophomore from Concordia, adding speed at the top of the lineup. Drake hit .367 with an outstanding .425 on-base percentage, and was 20-for-26 on steals.
"Blake has tools he can run, and bunt, hit for average, steal bags and he can really track the ball," Segel said. "He's a young, up-and-coming player. Knights fans will really like him, he'll be exciting to watch."
Left fielder Nate Blackham, a 2012 WCL All-Star Game participant, returns for his third season after redshirting at Washington State. Last summer, Blackham hit .311, added 13 steals and was a constant at the top of the lineup. Nick Ruppert of Dartmouth was a rising star in the Ivy League with a .355 average and eight RBIs in 16 games before being sidelined for the balance of the season with a broken hand. He should be recovered in time for summer, though.
Columbia sophomore Gus Craig, San Diego sophomore Grant Melker and Duffin each played sparingly for their college teams but should blossom with more at-bats. Melker is the younger brother of former Corvallis standout Adam Melker (2008-09), now with double-A Springfield in the St. Louis organization.
Mundell, who has blasted 10 home runs to date this spring, and junior returnee Dane Lund of San Jose State are solid options behind the plate; Rabago can also catch when not playing the infield.
Strong pitching has always been a team hallmark and this year should be no different. Corvallis has signed 21 pitchers, including its 10-day signees, so there will be plenty of arms to choose from and no one should be overworked. The upcoming Major League Baseball draft could impact the staff, especially if Pacific Lutheran redshirt junior Max Beatty (7-5, 2.48) - rated as the No. 3 Division III prospect by Baseball America - is drafted and elects to forgo his senior season.
"Jacob Schroeder (Washington State) will get a shot to be a starter early, there's a lot of upside there," Segel said. "I don't know how we will use Dylan Hecht but he's a power arm" and averaged more than a strikeout an inning as a UC Santa Barbara freshman.
"I think Casey Bloomquist (Cal Poly) and Andrew Naderer (Grand Canyon) will be starters. They pitched very well this spring. And we are counting on frosh Beaver southpaw Max Engelbrekt (pictured) and frosh right-hander Jared Priestley (Oregon) to chew up lots of innings and likely get starts.
"If Max Beatty doesn't sign I can see him being one of our horses along with All-Star pitcher Jorge Perez (Grand Canyon). We are super excited to have Jorge back. Elliot Surrey (UC Irvine) and Stephen Nogosek (incoming frosh at Oregon) will vie for starts too and help us win ballgames.
"We will really shine in the bullpen as well," he added, anchored by 2012 closer Devon Barker of Central Washington, possibly Hecht, frosh sensation Andrew Moore of Oregon State and Portland's Colin Feldtman, who closed for Kitsap and registered a save in the 2012 WCL All-Star Game. "I think we'll have some stopper-type guys in the back of our bullpen, which is exciting."