Kansas Southpaw Chase Kaplan and Oregon Utility Man Taylor Travess Added to Knights Roster.
January 10, 2017
Both to Return for Third Summer in Corvallis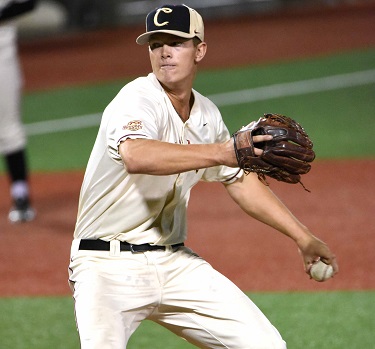 The Corvallis Knights announced the addition of Kansas Jayhawks junior southpaw Chase Kaplan (pictured) and University of Oregon junior utility man Taylor Travess to its 2017 roster.
With the addition of returnees Kaplan and Travess, Corvallis now will feature 12 returning players this summer.
Last season, both Kaplan and Travess earned all-WCL honorable mention honors. Kaplan led the Knights in saves with 10 and Travess tied for the team lead in home runs with Roman Garcia of San Diego with 3.
Both played high school baseball in Oregon, Chase with Hillsboro High School and Taylor with Springfield High School. And both played for Knights alums in high school, as Matt Bailie (1996-1997) was Kaplan's head coach at Hillsboro HS and Zach Bird (2005-2006) was Travess' skipper at Springfield HS.
Kaplan transferred to Kansas after two springs at Western Nevada College (JC) and Travess transferred to Oregon after two seasons at Mt. Hood CC.
"We'll look to Chase and Taylor to lead this year, and are excited to have them back," said Knights head coach Brooke Knight. "They both have grown tremendously in the program and still have much room for growth. We have high expectations for both young men."
Kaplan made 16 WCL regular-season relief appearances in 2016 and went 2-2 while posting a 2.70 ERA and striking out 24 over 23.1 innings pitched.
Overall, Travess hit .232 last summer, scored 29 runs, stole 11 bases, hit 3 triples, blasted 3 homers and collected 19 RBIs while playing left field, right field, second base and shortstop; and pitching.