Ex-Knight Enjoying Special MLB Season with New York Yankees.
September 23, 2012
Backup Catcher Chris Stewart Shines for First-Place Yanks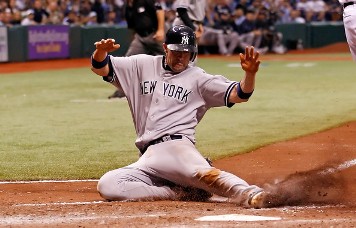 The business of baseball threw Chris Stewart (pictured sliding home at Tropicana Field) a huge curve this past April when the former Aloha Knights catcher was traded across the country just hours before opening day.
However, the personable 30-year-old from Fontana, Calif., took his 11th-hour move from the San Francisco Giants to the New York Yankees in stride. He's enjoying the best season in his major-league career and he's contending for his first berth in the postseason.
Stewart was a part-time starter for the Giants in 2011 and was battling for the backup spot behind Buster Posey in 2012 when the Giants broke training camp in early April. However, he was dealt to the Yankees for RHP George Kontos on April 4, just two days before the Yankees' opener at Tampa Bay.
His second stint in pinstripes - he played one game with the Yankees in 2008 - has gone very well. He backs up veteran Russell Martin and was hitting a career-best .243 (33-136), with a homer and 13 RBIs in 50 games, as the first-place Yankees finish a key series with the Oakland Athletics today at Yankee Stadium.
A frosh prospect at Riverside City College, Stewart was the MVP of the Pacific International League in 2001, the precursor of the current West Coast League, and led the Knights to a 54-14 record. He hit .342 that summer, with five homers and 46 RBIs, and raised his professional profile significantly.
Already selected by the Chicago White Sox in the 12th round of that year's draft, he turned pro shortly after the Knights' season ended. He began his pro career in 2002 at Bristol (Va.) in the Class A Appalachian League, and then began a steady rise through the ChiSox's farm system.
He eventually made his major-league debut for the White Sox on Sept. 6, 2006. Traded to the Texas Rangers in that off-season, he subsequently played for the Rangers (2007), the Yankees (2008), the San Diego Padres (2010) and the Giants (2011) before heading back to the Bronx Bombers this April.
The Knights caught up with Stewart recently during the Yanks' series with Toronto at Rogers Centre for a Q&A on a variety of topics.
KNIGHTS (Brooks Hatch): Last year we asked what quirky Giants' reliever Brian Wilson was like, what makes him tick, etc., Now that you're with the Yankees, can you answer the same questions about Derek Jeter?
STEWART: Derek Jeter is a professional in every sense of the word. He shows up to the field every day with the mindset that he will do whatever it takes to get the team a win that day. He was born to be a leader, and that's the reason why he is the captain of the greatest sports franchise in history.
KNIGHTS: Getting traded just before the start of the season can be unsettling, but in your case it seems as if it has turned out very well. What's it like to have your life uprooted like that, to move to another coast, etc., at the last minute?
STEWART: This year was extremely tough. Before and during spring training, my heart was set on playing for the Giants in 2012. We had a house ready for us, and were really looking forward to it. However, strange things happen in this game, and when I heard that I was coming back to the Yankees, I was elated. Although trying to find a place to live at the last minute was a little hectic, it was well worth it, because I get to put on pinstripes for a living.
KNIGHTS: Playing major-league baseball is incredibly hard, but is it "easier" (for the lack of a better term) now that you've had almost two straight years in the bigs and have gotten somewhat consistent playing time?
STEWART: I don't know if it ever gets easier. I would say that I am definitely more prepared, and am ready for what the big leagues have to offer. I know what I must do to succeed at this level, and I am aware of what it takes to be a major league baseball player now that I have had a steady amount of time up here.
KNIGHTS: We've heard the Yankees' fan base is one of the most intelligent in baseball, that they appreciate good baseball. Have you found that to be true?
STEWART: Yes. The tradition that has surrounded this organization for the past century has been instilled in New Yorkers as well. They live and die with the Yankees, and we feel that out there on the field.
KNIGHTS: With so many future Hall of Fame players on the Yankees, is there sort of a pecking order or is everybody just considered part of the team?
STEWART: That is the great part of this team. Everybody is treated like a future Hall of Famer, no matter who you are. It is a first-class organization filled with first-class people.
KNIGHTS: You have played in the American League before, but after returning to the AL after a season in the National League, what have you found to be the biggest differences?
STEWART: The biggest difference is having to deal with a DH. In the National League, you could manage a lineup much easier, knowing that you have a pitcher down there who doesn't hit as well as a DH would in the American League.
KNIGHTS: You're having a great season. How satisfying is it to know you are finally establishing yourself as a full-time major leaguer instead of a 4A player (again, for the lack of a better term) who constantly moves back and forth between the majors and triple-A?
STEWART: It is definitely nice having some success up here. I feel that I have worked tremendously hard throughout my career, and it is now paying its dividends. I know I need to keep working hard in order to keep improving to stay here also. Nothing is given.
KNIGHTS: Do you live in New York City? Is your family out there with you? What's it like to be a Yankee in New York? Do you get recognized on the street, in stores, when you use your debit card and people see your name, etc.?
STEWART: My wife and kids are out here with me. We live about a half-hour outside the city. I think my name gets recognized more than my face out here, which still isn't very often. Luckily I am one of the least-known players on the team, so I seem to fly under the radar in public, which is perfectly fine with me.
KNIGHTS: Have you had any time to tour New York City and sample what there is to offer?
STEWART: I have done just about all the tourist destinations out here. I visited the Stature of Liberty and Ellis Island. We've been to Manhattan, and saw Times Square, and Central Park. We have even been to the new World Trade Center, which I recommend to everybody who visits New York. It is a great memorial.
KNIGHTS: Have you been out to Monument Park at Yankee Stadium, just to look around?
STEWART: I actually was able to see Monument Park at the old stadium, which was a treat. Not many people have done that, and now that the old stadium is gone, I consider myself really fortunate to have been able to see it and play in it.
KNIGHTS: On our trip to new Yankee Stadium in 2009, Jack Nicholson and Paul McCartney were at the stands that night. Do you ever notice the many celebrities who attend Yankees' games?
STEWART: We see celebrities all the time, which is very surreal for me. We watch these people on TV all the time and admire them, yet here they are, at a Yankee game to watch us. It is awesome for me to be able to interact with so many different people with what I do.