Corvallis Knights Pitching Coach Joins Utes Staff.
October 9, 2014
Connor Lambert Thrilled with New Post at Utah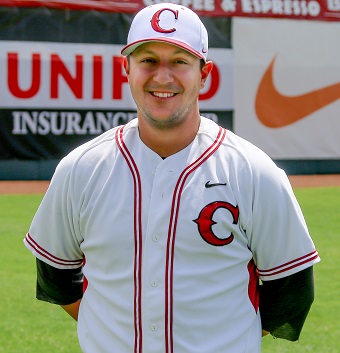 Connor Lambert has changed his zip code and his job description, but the Corvallis Knights veteran pitching coach fully intends to return to Goss Stadium in 2015 for his fifth summer with the Knights.
"As of now, it's looking that way," said Lambert, who was named the new Director of Baseball Operations at the University of Utah shortly after the 2014 West Coast League season after serving as the pitching coach at Tacoma Community College the past three seasons.
"I haven't heard the final say on it, but all signs are pointing in that direction, which makes me extremely excited. The Knights are my family, from Dan [Segel] to coach [Brooke] Knight, Bre [Miller], and everyone in-between.
"Being with the Knights is such a special experience that allows me to be myself as a coach. It will be a sad day when I'm told I can't come back to the Corvallis Knights in the summer."
Lambert has no on-field coaching responsibilities as a director of ops. So he could still assist this summer and possibly mentor any Utes on the team, should the Knights choose to parley their new connection with the Pacific-12 Conference's newest program into another partner-school relationship.
That's not a far-fetched proposition, considering the other new Utah-Knights connection. Former Corvallis pitching coach Jason Hawkins, who mentored all-WCL selections Jared Eskew, Ryan Platt, Jon Berger, Taylor Starr, Josh Osich and the rest of the WCL's top staff during the 2008 WCL championship season, was named Utah's new associate head coach/hitting coach on June 25.
Lambert's duties with the Utes are myriad, and akin to those of an assistant general manager/travelling secretary at the major-league level.
"Lots of office work; working closely with coach Hawkins with recruits we have on campus; itineraries, campus tours, and liaison of Utah baseball," he said. "There will be travel responsibilities, scheduling team practice on the road, and scheduling weight-room accessibility," and whatever other off-the-diamond fires need putting out.
Lambert built one of the league's top pitching staffs in his three seasons with the Tigers, an emerging NWAACC powerhouse under head coach Ryan Mummert.
They set school records for wins in 2013 and 2014, and numerous TCC pitchers earned Division I scholarships, including two-year all-WCL honoree (2013-14) Brandon Choate of the Knights and the University of Washington.
The Knights have two championships and two runner-up finishes in Lambert's four years in Corvallis. They set the (since-broken) WCL record for strikeouts (401) in 2011 and have consistently either led, or been among the league leaders, in ERA and other major pitching stats.
That successful track record made him an attractive candidate when the Utes needed a successor to current volunteer assistant Jay Brossman as their director of ops. Hawkins' ties with coach Knight and the Knights didn't hurt, either.
"Jason Hawkins and Brooke really collaborated on the whole thing," Lambert said. "I am so very lucky to have a guy like Brooke looking out for my best interests."
Lambert said he would miss "getting in the trenches" with players on a consistent basis. But the more hats he wears, the more qualified he becomes to perhaps lead his own program someday.
"Being around such wonderful coaches here is making me a better coach on a day-to-day basis, regardless if I'm actually out there coaching," he said.
And Lambert's influence will still be felt in 2015, even if the Knights don't sign any Utes. TCC sophomore right-hander Justin Vernia, the Tigers' Cy Young Award winner in 2014, will play for Corvallis in 2015 and extend the TCC-Knights connection.
"Justin is a special kid to me," Lambert said of the 6-foot-1, 200-pound right-hander from Issaquah High School in Renton, Wash., who was 7-0 with a 1.08 ERA over seven starts in 2014. "He has this quiet confidence that very few can match. He wants the baseball at all times, and understands who he is.
"Justin uses a three pitch mix with great command of the baseball. His ability to command his changeup gave hitters fits all spring. He has already made a jump in velocity this fall and hopefully his breaking ball will take that next jump as well.
"He will pitch at the Division I level and really help a program. He's hard-working, kind, intuitive and fearless and I'm very excited to have him on the staff this summer."