Ben Wetzler's Goal is at Hand; Be the Next Great Oregonian Pitcher to Lead Oregon State to Omaha
May 30, 2013
Ex-Knight Southpaw Featured in Oregonian Story Written by Former Knights' Intern Lindsay Schnell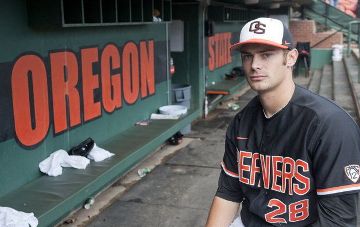 CORVALLIS - Before he became Oregon State's Sunday starter, one of the best pitchers in college baseball, a left-hander with a 92 mph fastball, Ben Wetzler was a farm boy who fell in love with baseball.
Hooked on the game, he mimicked World Series pitchers, checked out baseball books from the library and maybe even believed those who said he had "it" -- the stuff that might someday make him a superstar.
But what does that mean when you're in fourth grade?
So on the advice of his parents, down-to-earth ag teachers who knew more about cows than curveballs, he made sure he had a backup plan.
And that is how he wound up the 2001 junior champion in sheep showing at the Clackamas County Fair.
For his efforts, Wetzler won an agriculture prize pack, stocked with, among other things, sheep halters. He promptly took them apart and used the rope to string up a tire behind the family's barn, along a fence that overlooked the Clackamas High School baseball field.
The 9-year-old needed a strike zone for pitching practice.
Twelve years later, that practice has paid off. Driven by disappointment from the past two seasons, Wetzler and the No. 3 Beavers start postseason play this weekend in the Corvallis Regional with their eyes set on Omaha.
Wetzler wants to win, he says, for everyone but himself. For Pat Casey and the entire OSU team that believed in him when he couldn't find the strike zone as a freshman. For his high school coach, John Arntson, who is grieving the loss of his 7-year-old son. For his parents, who are still learning the ins and outs of baseball, and his 85-year-old legally blind grandma who shows up to every game and listens to the Beavers' play-by-play guy explain what her grandson is doing on the mound.
And for every Beavers fan who pinned their College World Series hopes on the gutsy left-hander as soon as he arrived in Corvallis. OSU hasn't returned to Omaha since their back-to-back title run in 2006 and '07, a detail that nags at Wetzler.
"I came here with a really clear goal," Wetzler, now a 21-year-old junior, says. "I wanted to be the next great Oregonian pitcher to lead Oregon State to the College World Series."
A bully on the mound
Wetzler remembers everything about his first collegiate start. "I was shellshocked," he says, shaking his head at the memory. In three disastrous innings, Texas A&M-Corpus Christi recorded eight hits and seven runs, stunning the freshman left-hander. "I had never been hit like that."
Back at Clackamas High School, Arntson and pitching coach Tom Bohlman groaned, then reached out and assured Wetzler he would be OK.
Arntson first saw Wetzler as an eighth grader when the 13-year-old won a throwing competition by about 25 yards. Arntson knew then what many had told Wetzler's mom, Kathy Mayfield, for years -- her son had "it."
Ag teachers in the North Clackamas School District, Wetzler's parents never had enough money to send him off with a youth travel team. They are not sports savvy; Kathy Mayfield says her only athletic activity was running from cows on her family's Canby farm. Wetzler was self-taught in many ways, and when he got to Clackamas High School in fall 2006 he was hungry, raw and -- probably best of all -- his arm wasn't overworked.
He blossomed into a dominant high school pitcher, the kind of guy "who could just bully hitters," OSU pitching coach Nate Yeskie says. His senior year, Wetzler led the Cavaliers to the 2010 6A state championship, amassing a 12-0 record and .32 ERA. In his high school career, he went 28-3 with 342 strikeouts and a 0.87 ERA in 201.1 innings.
"A bulldog," Yeskie says.
And an unpredictable one.
"He was wild," Arntson recalls. "He'd strike a guy out then bean the next two batters. We have some missing hairs, and some gray hairs, because of Ben."
His parents like to call him "the cardiac arrest kid," a pitcher who would load the bases with no outs in a tight game just to see if he could get out of it. With a grin, Wetzler admits, "I do like to keep things interesting."
In the 2010 semifinals against Barlow, Wetzler did just that, putting runners on the corners with one out and the Cavaliers clinging to a one-run lead.
"We went out to talk to him, and not much of what he said is printable," Arntson said. "But he made one thing clear -- he was not coming out of that game."
By the time Wetzler arrived at OSU, he had a reputation for being stubborn and a little out of control, with a fierce will to win. And that meant an instant comparison to Beavers' legend Dallas Buck, the Newberg-raised, wild right-hander with an outstanding slider and unmatched swagger who gutted through a partial ligament tear to help OSU to the 2006 title.
A radio and a dream
Wetzler had just finished eighth grade in the summer of 2006 when OSU rode the arms of Buck, Jonah Nickerson and Kevin Gunderson -- Oregonians all -- to an improbable title.
"We were still playing, and in the dugout we had a radio listening to the championship game," Wetzler recalls. "I remember thinking, 'I want to do that.' Oregon State was my dream school."
His goal from the get-go was to work his way into the starting rotation and he did just that, earning the Sunday spot as a freshman. But he relied too much on his fastball -- the only pitch he could regularly throw for strikes -- and struggled with consistency.
"My first year, I was in my own head way too much," Wetzler says. "I'd give up a hit and my mind would start racing. It took me a long time to get over that Corpus Christi thing.
"The expectations were set way too high," Yeskie says. "I think the natural reaction, when Ben came in, was for people inside and outside the program to say, 'Oh, here's the next one, let's ride this wave.' But the truth is, there's only one Dallas Buck, only one Jonah Nickerson ... and there's only one Ben Wetzler."
Now Wetzler throws a mix of a fastball, slider and changeup, and he's remarkably consistent. Before last week's Pac-12 finale against Washington State -- which required some help from the bullpen and clutch hitting -- Wetzler was 7-0 in conference with a 1.46 ERA this season.
Two years ago against the Ducks, Wetzler was pulled from the starting rotation in favor of James Nygren after shaky starts in the previous weeks. With Wetzler pitching in relief, the Beavers were swept in Eugene, blowing a shot at a national seed. Though he was just a freshman, Wetzler felt he had failed the team.
"I love the Sunday game because it always matters," Wetzler says. "You're either going for the sweep, trying to win the series or fighting to salvage a series. This year in the Civil War, I wanted that pressure. I like that guys depend on me now."
Connecting with coach
Last offseason, as rumors of Casey's retirement swirled, Wetzler and a few other upperclassmen "sat Coach down for a little talk." The players made clear to Casey that they wanted him back as their leader.
Playing for Casey, Wetzler says, is the equivalent of a rollercoaster ride. The fiercest competitor on the Corvallis campus, Casey lives and dies with every pitch.
"I think there are times, once you're on campus, where you're wondering if he is actually crazy," Wetzler said. "But he just brings out the competitor in you, and guys love to play for him."
It took Wetzler awhile to realize that, though.
"Everybody is met with the challenge of what it's like to play with Casey in your ear," Yeskie says. "There's a degree of stubbornness in all the great ones, and one of the biggest steps in Ben's evolution has been going from, 'This guy is crazy' to 'This is the guy I want to play for.'"
If Wetzler had an advantage over other OSU freshmen, it's that Bohlman, his high school pitching coach, played for Casey at George Fox in Newberg. Multiple times before Wetzler left for Corvallis, Bohlman tried to explain what it would be like to play for a man who acts, Wetzler says only half-jokingly, "like he wants to fight someone after a loss."
"Ben can be a little hard-headed, and I knew there was going to be a learning curve," Bohlman says. "We talked after every outing, and I know he was frustrated. He thrives under Casey now, but it took some time."
Constant talks with Bohlman about Casey helped Wetzler's development, as did Yeskie's repeated line: You can be great, he'd tell Wetzler. You just have to believe it.
"I don't throw that much different than two years ago," Wetzler says. "My fastball is pretty much the same velocity, my slider is a little sharper. But it makes a hell of a difference when you believe in what you're throwing."
But this year, Wetzler is fueled by more confidence. Wetzler also remains close with Arntson, talking to him almost every day. He was devastated this winter to hear about the death of Arntson's 7-year-old son, Jake, who Wetzler considered a little brother.
Jake gave Wetzler the nickname "Sweats," ("Wetzler" is hard to pronounce when you're 4) and used to tag along when Wetzler went home -- just past the outfield fence -- to his parents' farm. This spring, Wetzler scribbled "Jake 9" inside his hat, a reminder of who this season is dedicated to. Getting to the College World Series, says Wetzler, might bring Arntson a little joy in what's been a brutal six months.
"Jake has definitely been a driving force in my performance this year," Wetzler says. "I think he's up there making sure I keep things interesting."
That much he can usually do on his own. Unlike two years ago, Wetzler performs best now when it's needed most. He craves pressure, and understands better how to get himself out of jams and navigate through when things start to go haywire.
"Ben has a little bit of that perfect gene, where he wants to please everyone, where he wants to win for everyone," Yeskie says. "But he's also a little primal -- he'll drag everyone out there and try to caveman his way through it. That's part of what makes him good."
A bit like Buck, but his own man, bullying the Beavers toward college baseball's promised land.
- by Lindsay Schnell, The Oregonian