Ex-Knight Bud Norris Makes Major League Debut at Wrigley Field for Houston.
July 29, 2009
Norris Tosses Three Solid Innings of Relief for Astros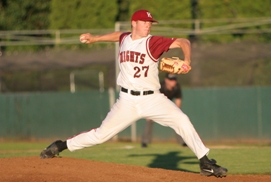 Ex-Knight star pitcher Bud Norris (pictured pitching for the Knights in 2005) of the Houston Astros made his major league debut this afternoon vs. the Chicago Cubs at Wrigley Field. Norris pitched three solid innings of relief giving up only one run while striking out four.
Norris is the fourth Knight to make his big league debut this summer including Bobby Scales of the Cubs, Tommy Hanson of the Atlanta Braves and Marc Rzepczynski of the Toronto Blue Jays.
Norris recently started for the Pacific Coast League in the AAA All-Star Game and was called up yesterday to replace injured Astros' ace Roy Oswalt on the roster.
Bud starred with Tommy Hanson of the Braves on the Knights' 2005 staff. Bud earned first-team All-West Coast Collegiate Baseball League honors as the right-hander from Cal Poly went 7-1 with 1.09 ERA and struck out 75 over 10 appearances, 9 starts and 66 innings pitched.
Norris soaks up scene in MLB debut MLB.com
Norris may make start for Oswalt MLB.com