Eight Corvallis Knights Named WCCBL West All-Stars.
July 16, 2008
5 Pitchers Make the Team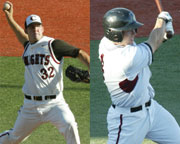 The West division leading Corvallis Knights placed eight players on the 2008 West All-Star team as announced by League president Ken Wilson. Five Knights' pitchers were picked.
The 2008 WCCBL All-Star Game is Tuesday, July 22 at Moses Lake's Larson Field.
Corvallis selections were as follows: Jon Berger (2-0, 1.46) of San Diego State, Ryan Platt (2-0, 0.50) of UC Riverside, Eddie Orozco (2-0, 0.45) of UC Riverside, Jared Eskew (1-0, 1.29) of Cal Poly, Taylor Starr (12 apps, 5 svs) of Oregon State, Logan Lotti of Sierra College, Billy Clontz of Mt. Hood CC and Josh Hogan (.326) of Mt. Hood CC. Hogan will not play due to injury.
Berger, a senior-to be at SDSU, leads the staff in starts with 6, innings pitched with 37 and strikeouts with 37.
Lotti is tied for the league lead in total bases with 48 and leads the Knights' in batting with a .327 average, doubles with 8 and HR with 3.
Clontz, a native of Corvallis, is hitting .288 and leads the Knights in RBI with 17 and has played both outfield and third base this season.