Knights Alum Bud Norris of Houston Earns First Big League Win.
August 3, 2009
Astro Rookie Tosses 7 Shutout Innings at St. Louis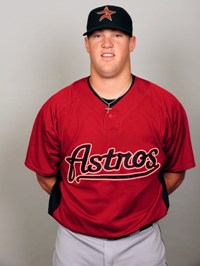 Ex-Knight hurler Bud Norris (pictured) of the Houston Astros earned his first big league win this past Sunday in his first major league start.
The right-hander from Cal Poly was masterful shutting out the Cards over 7 innings while allowing only two hits and striking out 5 in the Astros 2-0 win over St. Louis at Busch Stadium.
Norris took a no-hitter into the sixth inning.
This was Bud's second appearance this week as the rookie debuted on Wednesday at Wrigley Field vs. the Cubs.
Norris starred for the 2005 Knights going 7-1 while posting a 1.09 ERA and earning first-team All-WCCBL honors.