KRKT Future Knights Night is Friday, June 26.
June 18, 2009
Your Youth Summer Baseball or Softball Team Could Spend an Evening with the Knights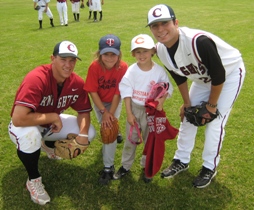 KRKT 99.9 FM is holding a new exciting Cricket contest this summer. For more info or to enter, click here.
June 26th is the FIRST Future Knights Night! Your summer baseball or softball team could spend an evening at the Corvallis Knights game on June 26th! Watch some incredible baseball, lead the crowd in singing "Take Me Out to the Ballgame" and get treated like VIPs!
Just tell us a little about your team (click here) and they could win a night at the Corvallis Knights. Listen to KRKT in the morning on June 23rd to hear the winners announced!