Fans Pick Knights' Pitcher Devon Barker of Central Washington.
July 13, 2013
Southpaw to Make Second WCL All-Star Game Appearance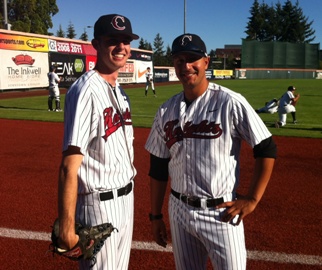 Devon Barker's first trip to Canada will be a memorable one.
The Corvallis Knights pitcher (pictured left of Knights' pitching coach Connor Lambert) was selected to participate in the West Coast League All-Star Game by a vote of the fans. The lefty from Puyallup, Wash., a redshirt junior-to-be at Central Washington, garnered over 62,000 online and paper votes to outdistance runner-up Peter Van Gansen of Cal Poly.
Fans from each WCL team elected a representative to the midsummer classic, scheduled for July 23 at Royal Athletic Park in Victoria, British Columbia. Picks were submitted to the League by 5 pm pdt yesterday and announced today. The remainder of the squads will be announced on July 15.
It will be a repeat appearance for Barker, who is 2-1 with a 4.02 in seven games, with 20 strikeouts in 31.1 innings. Devon was named WCL Player of the Week for June 5-9 for his stellar performance at Cowlitz on Sunday, June 9 as the southpaw nearly tossed a no-hitter.
Barker was one of seven Knights to play in the 2012 ASG at Walla Walla, won 3-2 by the West Division.
"I can't wait. It was a great experience last year, so I can only imagine what this year will be like," Barker said. "I've never been to Canada so I'm excited for that experience."
Barker described the 2012 ASG as an "awesome" experience.
"They had a block party set up for us, which was really cool," he said. "Meeting all the players from the other teams...the Home Run Derby was fun, watching all these guys with crazy pop putting balls over the light poles."
Devon pitched a scoreless inning and got a hold in the 2012 game, started by current Knight Jorge Perez. Former Corvallis center fielder Connor Hofmann was the MVP; ex-Knight Rob Dittrick threw a scoreless inning of relief and current Knights' pitcher Colin Feldtman, then with Kitsap, earned a save.
"It was cool, with all the scouts there watching you, and my family came," Barker said in recalling the 2012 game. "Walla Walla is one of my favorite fields I've ever played at.
"I can only imagine that Victoria is going to be nice too, I can't wait to get up there."