Four Corvallis Knights Make Top 20 WCL Prospects Rankings by Perfect Game Crosschecker.
September 22, 2014
Dalton Kelly of UC Santa Barbara Rated #5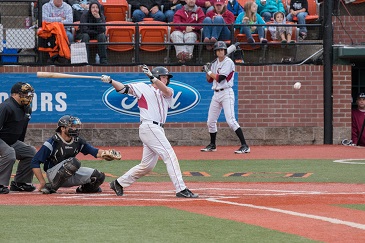 Four members of the 2014 Corvallis Knights and one alum from the 2013 squad were named to
Perfect Game's
list of the top 20 pro prospects from the 2014 West Coast League season.
First-team all-WCL utility man Dalton Kelly of UC Santa Barbara was ranked No. 5 and starting pitcher Justin Calomeni of Cal Poly was ranked No. 9. They were ranked No. 5 and No. 7 by Baseball America last week.
Kelly led the Knights in batting with a .336 WCL average and hit a team-high four triples. The junior first baseman/outfielder added seven homers and 34 RBIs in league games and played outstanding defense. He hit .250 in five playoff games, with two RBIs.
A sophomore-to-be right-hander, Calomeni started seven games and was 1-3 with a 4.33 in league play. He had 37 strikeouts and just 12 walks in 45.2 innings over 12 league appearances. Calomeni then went 2-0 in two playoff appearances, with six strikeouts in 5.2 innings and a 0.00 ERA.
Washington senior-to-be closer Brandon Choate was ranked No. 10. The hard-throwing right-hander was 2-0, 1.11 in 18 league games, with nine saves and 19 strikeouts over 24.2 innings. He also had a 0.00 ERA and a save in two playoff games, with four strikeouts in 2.1 innings. He was second-team all-WCL for the second year in a row.
Catcher Logan Ice (pictured), an Oregon State rising sophomore, was rated No. 14. An honorable-mention all-WCL selection, Ice hit .274, with no homers and six RBIs, in 27 games. He then hit .400 in three playoff games, with two RBIs.
First baseman Gabe Clark of Victoria, an OSU junior-to-be who played on the Knights' 2013 WCL championship team, was rated No. 17. He hit .291, with eight homers and 31 RBIs, in 40 games for the HarbourCats.