Ex-Knight Matt Andriese Rated #6 Prospect in Northwest League.
December 1, 2011
Former Knights' Catcher Andrew Susac of San Francisco Named the Giants Top Projected Power Hitter in Minors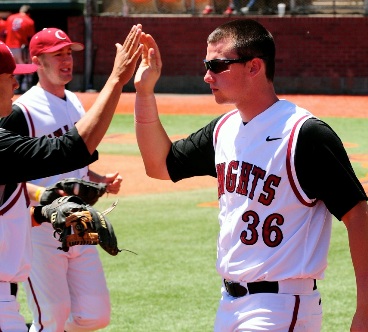 Former Corvallis Knights ace and 2009 WCL Pitcher of the Year Matt Andriese is making his mark in the San Diego Padres organization after his first summer in professional baseball.
The 21-year-old right-hander from UC Riverside wasted no time establishing himself as a bonafide prospect after being selected by the Padres in the third round of the 2011 major-league baseball draft.
Assigned to the Eugene Emeralds, their short-season Class A franchise in the Northwest League, Andriese went 5-1 with a 1.51 ERA in 12 games and helped the Emeralds advance to the NWL championship series.
Andriese was subsequently ranked the No. 6 prospect in the Northwest League by Baseball America. In its evaluation, Andriese was projected as a "mid-rotation workhorse who generates strikeouts and groundouts."
An anonymous National League scout was also high on Andriese, a 2009 first-team All-WCL selection who went 7-0 with a 1.38 ERA and 44 strikeouts in 52 innings for the Knights that summer.
"I love his mound presence and he's got stuff," the scout told Baseball America.
"He mixes three pitches (fastball, curve, splitter) and all of them are average, if not a tick above."
Matt made eight starts in 12 appearances and had 42 strikeouts and only 10 walks in 42 innings. He was on a pitch count all summer after a heavy workload at UC Riverside in the spring.
Andriese was just one of numerous Knights who earned high marks in Baseball America's 2011 draft report card, which graded players in their first professional season.
* Catcher Andrew Susac (2009, Oregon State; San Francisco Giants, 2nd round) was rated as their "best power hitter." Andrew (pictured above) signed late and didn't play professionally, but led the Cape Cod League with a .500 slugging percentage in 2010.
* Lefty Josh Osich (2008, Oregon State; San Francisco Giants, 6th round) was mentioned among their five pitchers drafted in the first seven rounds with a plus-90 fastball.
* Southpaw Tyler Anderson (2009, Oregon; Colorado Rockies, 1st round), the Knights' initial first-round draft pick, was judged to have the best secondary pitch (changeup), and one of the top two breaking pitches (slider) of the team's first-year products.
* Righty James Nygren (2009, Oregon State; Miami Marlins, 33rd round) had the "best pro debut" after going 4-1 with a 1.36 ERA, six saves and 34 strikeouts in 33 innings with the Gulf Coast League Marlins. He was also named their top late-round pick, thanks to a plus-90 fastball and "solid" slider he throws for strikes.
* First baseman Dean Green (2008, Barry; Detroit Tigers, 11th round), an all-star (.341, 7-44) at Connecticut in the New York-Penn League, was named one of the organization's best young power hitter and one of its three best late-round draftees.
* Third baseman Nic Cuckovich (2011, Riverside CC; Kansas City Royals, 17th round), hit .302, led the Arizona Rookie League with 24 steals and was one of three to earn the "best pro debut" designation. Cuckovich signed with the Knights, but did not make it to Corvallis as he signed with KC.
* Righty Sam Gaviglio (2009, Oregon State; St. Louis Cardinals, 5th round), was one of two pitchers named "closest to the majors." He was 0-0, 0.00 in four innings at Batavia in the New York-Penn League; he "gets a lot of grounders with his sinker and changeup."
* Righty Scott Lyman (2010, UC Davis; Miami Marlins, 10th round) was mentioned as having one of the "best fastballs," as he can regularly hit 95-96 MPH.
* Former Knights Dayton Alexander (2011, Oakland, OF); Carter Bell (2009, Arizona, 3B); Michael Blake (2010, Arizona, LHP); Cody Bartlett (2007, Toronto, SS); Dustin Emmons (2008-2009, N.Y. Mets, RHP); Drew Leary (2009, Tampa Bay, RHP) and Greg Peavey (2007, N.Y. Mets, RHP) also made their professional debuts.