Linn-Benton CC Reinstates Baseball.
April 11, 2014
Corvallis Knights Team President Dan Segel Assists Effort to Bring Back JC Ball to Mid-Valley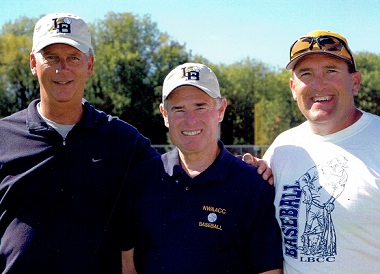 Linn-Benton Community College is bringing back baseball.
The school president, Greg Hamann, announced yesterday the Albany college's plans to reinstate the program for the 2015 spring season.
Pictured, left-to-right, are former LBCC head baseball coaches Dave Dangler (1977-1983), Dick McClain (1971-1976) and Greg Hawk (1984-2013).
McClain was a key member of a community group that pushed hard for reinstatement. Dick was responsible for originally bringing baseball to LBCC in 1971, the school's inaugural season.
Hawk coached 30 years at LBCC, won two NWAACC titles and started the program's relationship with the Knights.
Dangler is currently a professional baseball scout with the Miami Marlins. Over his long coaching career, Dangler has skippered the Roadrunners, Yavapai (junior college), and Portland State; and was most recently a pitching coach at Notre Dame and University of Washington before going to work for the Marlins.
The Corvallis Knights have a long history of rostering LBCC players, most recently Austin Hamilton (2012), A.J. Burke (2010, 2012), Liam Baron (2008-2009) and Bryant Kraus (2007-2008).
Hamilton is currently a junior at Western Oregon; Burke finished his college career at Western Oregon and is pitching professionally in the Oakland A's organization; Baron went on to star at Gonzaga before returning home to Australia; and Kraus transferred to University of Portland where he excelled in baseball and in the classroom. Kraus is currently working at ETZEL as an accounting manager.
For more information on the school's announcement check out the Democrat-Herald's story below.
LBCC to bring back baseball in 2015
by Les Gehrett, Albany Democrat-Herald
Baseball is coming back to Linn-Benton Community College.
The program was eliminated, along with women's basketball, after the 2013 season as part of a larger package of budget cuts at the school.
But months of efforts by the administration and community members have led to a rebirth of the program. The plan is to field a team for the 2015 season.
A women's athletic program will also be added, but a final decision on which sport has not yet been made.
"This plan, which uses athletics as a vehicle to promote student success and involvement, makes us very optimistic about the future of baseball and other sports at our college," said LBCC President Greg Hamann. "We're very excited and grateful for the opportunity this represents."
Dan Segel, a former Roadrunners baseball player and now the president of the Corvallis Knights, was part of the group that worked to bring the program back.
"The president was very courageous to keep the door open and, at the end of the day, to bring the program back," Segel said.
Segel and partners including Steve Carothers, an LBCC alum and businessman, and Dick McClain, former LBCC athletic director and baseball coach, led an effort that raised $40,000 in funding for the program.
"That initial support is bridge funding to get the program going. Our goal is to do ongoing fundraising to supplement the budget," Segel said.
The plan to reintroduce baseball features specific goals regarding players' academic success and connecting the program with the local and student communities. These goals include:
* Achieving a 50-percent college completion rate for athletes. LBCC's current student success rate is about 22 percent, which combines the percentage of students who earn a degree or certificate or who transfer to a four-year institution - about average for Oregon community colleges.
* Fielding a significant numbers of local players. At least 40 percent of baseball players will be from LBCC's service district or the district of a bordering community college. At least 80 percent will be from Oregon.
* Creating closer connections to the LBCC community. Athletes will be better connected to the LBCC community to ensure it authors a noticeable positive experience for all students, rather than just student athletes.
LBCC baseball has a long history of success. Coach Greg Hawk and his title-winning 1988 team will be inducted into the Northwest Athletic Association of Community Colleges Hall of Fame in May.
McClain, who was instrumental in the foundation of athletics at Linn-Benton, appreciates the administration's willingness to help bring back baseball.
"It's pretty exciting. I think it's going to end up rejuvenating the entire athletic program," McClain said. "There are a lot of people that cared about the program and stepped up to make financial contributions to assist in making this happen."