Future Knights' Catcher Logan Ice Starts as Frosh for #4-Ranked Beavers.
March 20, 2014
Alum Pitcher Kevin Flemer and Future Knight Infielder Dan James Enjoy Freshmen Campaigns at OSU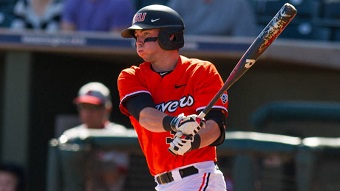 Two Oregon State freshmen are looking forward to their first summer with the Corvallis Knights. A third said his stint with last summer's West Coast League championship team has eased his transition to college baseball.
Catcher Logan Ice (pictured) and infielder Dan James will join the Knights this June after the Beavers call it a season. Right-handed pitcher Kevin Flemer will move from the WCL to play for the Falmouth Commodores in the Cape Cod League this summer.
Ice has made the biggest impact at OSU through the first quarter of the college season. Heading into this weekend's home-opening Pacific-12 Conference series with Arizona State, he's started 19 of 21 games and is hitting .228 (13-57) with eight RBIs and has thrown out nine of 13 opponents attempting to steal.
He and redshirting OSU teammate Dane Lund should give the Knights plenty of options at catcher. Neither player should wear down from the grind of playing five, six or seven games a week in hot summer weather.
"With Oregon State, there will be some growing pains but I think he's going to be great," Lund said of Ice, a 5-foot-9, 182-pound switch-hitter from Rogers High School in Puyallup, Wash. "With the Knights, he'll be tough.
"He's not going to act like a freshman. He's a switch-hitter, he plays great defense. He's going to be a good player."
Ice attended several Knights' games last summer before starting at OSU, and he's friends with former Knights' reliever Devon Barker (2012-13), a former teammate at Rogers. So he has a working knowledge of how the Knights' roll.
"The Knights have a good history and it will be a fun way to keep my game up and improve. It will be a good time," Ice said. "I've heard they like to win, and they do win.
"That's a good thing. Losing is never fun and I want to play on a winning team. I've heard they treat you right and they do it the right way. I hope to keep improving, and work on the things I need to work on, and fine-tune the things I'm doing well. I know what I'm getting into."
A 5-11, 185-pound infielder/outfielder from El Toro High School in Orange, Calif., James anticipates seeing plenty of action after playing sparingly this spring. He has only one at-bat in two games.
"I've heard it's going to be the best summer I've ever had so I am looking forward to it," he said. "I've heard the Knights like to win, which I can respect because I like to win too. Losing isn't fun."
James estimated he played more than 100 games in the summer following his junior and senior years at El Toro so the WCL's hectic schedule won't be that big of an adjustment.
"I'm used to a lot of baseball. I love it," he said. "I don't care where they put me, as long as I'm playing. I just want to get on the field, as long as I have a chance to play and enjoy my summer" he'll be fine.
Flemer was 3-1, 0.63 in 13 total appearances after joining the Knights shortly after his graduation from St. Mary's College High School in Berkeley, Calif. The 6-1, 210-pound right-hander had 28 strikeouts in 28.2 total innings, with only five walks.
His summer in Corvallis helped prepare him for his freshman year with the Beavers. He's 0-0, 4.05 in six games, with two strikeouts in 6.2 innings heading into this weekend's home series with Arizona State.
"I didn't know what to expect, it was different competition," in the WCL, he said. "As I got to know the guys, and play against college players, it definitely paid dividends for me and has helped me here so far. I just got the hang of college hitters in the summer, and knew what to expect in the fall.
"Last summer facing college hitters prepared me, helped me get ready for what to expect. Everybody is good now. You have to be on your game the whole season. You can't take days off or make small mistakes."