Former Knight Tommy Hanson Passes at 29.
November 10, 2015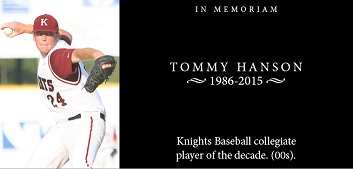 The Corvallis Knights organization lost a dear friend yesterday. Tommy Hanson passed away prematurely at 29.
Tommy pitched for the Aloha Knights in 2005 following his frosh spring at Riverside CC. The "hibernator" - as he was affectionately nicknamed by his Knights coaches - stayed connected to the team throughout his professional career.
Hanson's time with the Knights was full of joy and ended with Tommy being recognized as the West Coast League's Pitcher of the Year.
Tommy still holds the club's single-season records for innings pitched (78), strikeouts (116) and ERA (0.92).
"Speaking on behalf of the entire organization, we are deeply saddened by the loss of Tommy," said team president Dan Segel. "Tommy was beloved for his personality and for who he was."
"We loved him so much and he loved us back just as much or more, as he was such a caring, genuine and thoughtful young person. Our hearts are broken."
Tommy died due to organ failure in an Atlanta, Georgia hospital.
"While we lost a great friend, Tommy will never be forgotten," said Segel. "We will move forward cherishing all our wonderful memories of Tommy."
Hanson enjoyed a successful major league career that saw him shine for the Atlanta Braves and later pitch for the Los Angeles Angels. He was also a member of the Texas Rangers, Chicago White Sox and San Francisco Giants organizations during his 10-year professional baseball career.