CWU Reliever Devon Barker to Return.
October 30, 2012
Tacoma CC's Choate, Cal Poly Trio Lead October Signings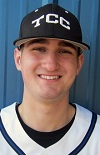 Central Washington lefty reliever Devon Barker, a transfer from Centralia CC, will return to the Corvallis Knights in 2013.
A 6-foot-4, 175-pounder from Puyallup, Washington, Barker became one of our bullpen aces in 2012 after joining the club as a 10-day signee who earned a spot, and an appearance in the WCL All-Star Game in Walla Walla. He was 3-0 with a 1.84 ERA in 18 total appearances, with five saves and 33 strikeouts in 29.1 innings pitched.
He'll join Pacific Lutheran pitcher Chris Bishop and Corban University infielder Marc Gallegos as returnees from the 2012 team, which won the West Division regular-season and playoff championships before losing to Wenatchee 2-1 in the best-of-3 WCL Championship Series.
Our new relationship with Tacoma Community College, fostered by Knights/TCC pitching coach Connor Lambert, is starting to bear fruit.
We've signed TCC sophomore pitcher Brandon Choate (pictured), a 6-foot-5, 215-pound righthander from Mountlake Terrace High School in Lynnwood, Wash. He was a two-year letterman at MTHS, and also played for the Washington Wave summer team.
Choate was 0-1 with a 6.54 ERA in 10 appearances as a freshman in 2012, with 12 strikeouts in 11 innings. He topped out at 90 MPH recently at TCC's annual Scout Day event.
Cal Poly has long provided us with some real standouts (Eric Massingham, Brent Morel, Bud Norris, Mitch Haniger, David Armendariz and Jimmy Allen to name a few) and this year appears to be no different. Three freshman Mustangs - pitcher Casey Bloomquist, freshman catcher Brian Mundell and freshman shortstop Peter Van Gansen - will play for the Knights in 2013.
Bloomquist is a 6-foot-3, 170-pound right-handed pitcher from Bakersfield Christian High in Bakersfield, Calif. He was an All-South Sequoia League pitcher and All-Area utility player as a junior. He also was named to the NCSAA All-American first-team, All-American Far West Super Region team, ESPN Cal-Hi all-state small schools team and all-state underclassmen second-team.
Mundell is a 6-3, 205-pounder from Valencia High School in Valencia, Calif. He earned first-team All-Santa Clarita Valley and All-Foothill League honors, was named offensive MVP of the league and participated with the Southwest Future All-Star Team as a junior.
Van Gansen is a 5-9, 150-pound shortstop from Mission Hills, Calif., who played at Alemany High School. He was first-team All-Mission League and second-team All-CIF-Southern Section Division II honors as a sophomore and junior.
The Knights have also signed middle infielder/right-handed pitcher Stephen Nogosek of Woodcreek High School in Roseville, Calif., and Dartmouth freshman center fielder Nick Ruppert.
Nogosek is a 6-foot-1, 180-pound senior who will sign with Oregon in November, and enroll for the 2013-14 academic year. He hit .374 (40-107) with nine doubles, a triple, a homer and 26 RBIs in 32 games for Woodcreek, which defeated Granite Bay 9-2 in the 2012 CIF-Sac-Joaquin Section Division II championship game.
Ruppert is a 5-11, 180-pounder from La Mesa, Calif. He played at St. Augustine High School and hit .314 (32-102) with a homer and 15 RBIs as a senior in 2012 and .432 with three homers and 27 RBIs as a junior in 2011.