Jim Murphy of WSU is named the Knights Team MVP.
August 20, 2007
J.R. Murphy of San Diego State named Top Pitcher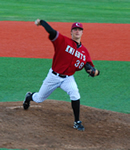 This past week, the Corvallis Knights coaching staff selected a team MVP, top pitcher and Joe Segel hustle award winner. The picks were announced this morning by team president Dan Segel.
Senior-to be Jim Murphy of Washington State was the coaches unanimous choice as the team's Most Valuable Player. Murphy led the club in batting average (.352), homeruns (5) and RBI (28).
Big Jim also played a stellar first base recording 272 putouts and 19 assists without a single error all summer.
Murphy finished the season red hot as Jim hit a game-winning homerun in the Knights decisive Divisional Series win over Kitsap and went 6 for 15 in the post-season.
"Jim really developed as a leader this summer," said Knights' head coach Matt Dorey. "Murph shouldered much of our offensive production and led us to a division title."
Jim was also named first-team All-WCCBL and was the WCCBL's co-Player of the Week for July 30-August 5.
The club also announced that J.R. Murphy (pictured) of San Diego State had been named the team's "Top Pitcher". J.R. finished the regular season with the league's third lowest ERA. For the summer, J.R. made 10 starts, tossed 60 innings and went 4-1. His final ERA was 1.35. The senior-to be from Truckee, California walked 17 while striking out 51 and the opposition hit a paltry .181 off Murphy.
"J.R. understands the game and makes excellent adjustments," said Dorey. "He was the best overall pitcher on the club and that's saying alot considering our staff."
J.R. was also named first-team All-WCCBL.
Soph-to be infielder Josh Hogan of Mt. Hood CC was this year's Joe Segel Hustle Award winner. Hogan earned a spot in the pre-season and won the second base job. Mid-season, he was moved to shortstop where he solidified the club's league leading defense.
Hogan hit .265 on the season and led the club in doubles with 9. His 20 RBI were third most on the team.
Like the Murphy boys (no relation), Hogan was also named first-team All-WCCBL.
Southpaw pitcher Matt Way of Washington State University was the fourth Knight to earn first-team All-WCCBL honors. Way went 5-1 on the year, led the club in strikeouts with 60 and posted a 2.59 ERA. Way was also named the WCCBL All-Star Game's "top prospect" as voted on by MLB scouts.
Junior-to be outfielder Matt Wyckoff of George Fox University was named second-team All-WCCBL. Wyckoff hit .331 and led the Knights in at bats with 175, runs with 26, hits with 58 and stolen bases with 12.
Pitchers Blake Keitzman (4-1 W/L, 1.10 ERA) of Oregon State, Eric Massingham (1-3 W/L, 1.60 ERA) of Cal Poly SLO, Daniel Bibona (2-2 W/L, 2.29 ERA) of UC Irvine and Greg Peavey (0-1 W/L, 1.14 ERA, 4 saves) of Hudson's Bay High School were All-WCCBL honorable mention selections.