Twenty Area Schools Attend Knights' Third Annual Science, Engineering & Art Day.
June 5, 2014
2,485 Fans Enjoy Interactive Exhibits, Sunshine and Baseball on Opening Day at Goss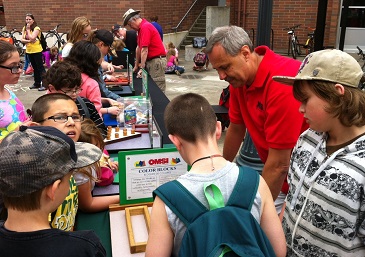 It was a glorious morning at Goss Stadium on Opening Day 2014, as 2,485 fans, primarily elementary school students, bathed in sunshine; enjoyed a range of interactive science, engineering and art exhibits; and watched the hometown team crush the Portland Sea Dogs 22-0.
Twenty area schools attended from Keizer to Newport to Eugene.
"What an exciting day," said Corvallis Knights GM Bre Kerkvliet. "It was great to see all the kids and to see schools come out in force. The energy in the park was something special."
There was no shortage of activity at Goss Stadium as fans visited eleven exhibits, all interactive, before and during the game.
"Our exhibitors were fantastic. Much thanks to PEAK Internet for making this possible and for the extraordinary work of Skip Rochefort, Margie Haak and their team of OSU students for making this a memorable event for all our fans. They rocked it."
Exhibitors included OMSI (pictured), OSU Colleges of Science and Engineering, Corvallis Fall Festival, Corvallis Art Center and PEAK Internet.
Students also got to measure their throwing speed at a station that recorded the velocity of fans' pitches.
The Knights' staff tracked the very best throws and the top speeds for the day were as follows:
Boys clocked over 50 MPH-
Eli Paetch, Pioneer
Owen Heiken, Philomath Elementary
Logan Ward, Takena Elementary
The champ was Fred Taft from Foster Elementary who was clocked at 55 MPH.
Girls clocked over 40 MPH-
Sadie Francis, Philomath Elementary
Eimar Shakir, Franklin
Justine Pacey, Pioneer
The Schools that attended PEAK Internet Science, Engineering & Art Day presented by OSU Colleges of Science and Engineering were: Alsea, Ash Creek, Calapooia Middle, Central, Central Linn, Clover Ridge, Eddyville Charter, Family School, Foster, Franklin, Hallman, Harritt, Keizer Elementary, Newport Intermediate, Oak Grove, Oak Heights, Philomath Elementary, Pioneer, Takena and Waverly.