Knights Release 2015 Schedule.
January 6, 2015
Corvallis Matches Up with Defending Champion Bellingham in WCL Home Opener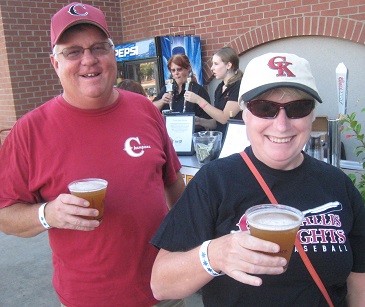 The Corvallis Knights will open their 2015 season on June 3rd when they host the Portland Sea Dogs in the fourth annual PEAK Internet Science, Engineering & Art Day game at Goss Stadium, general manager Bre Miller announced Tuesday. (pictured are the Tindalls, season-tickets holders since 2007, proud supporters of the Knights and connoisseurs of Block 15's wonderful
Summer Knights Ale
)
It's the first of 59 regular-season games for the Knights, who lost to Bellingham last August in the West Coast League Championship Series. They will play 54 WCL games (27 home, 27 away) and five home nonleague games.
The Knights' WCL opener is June 5 at Bend; their WCL home opener is June 9, a rematch with Bellingham featuring the league's most recent champs (Corvallis won the title in 2013). Most home games will start at 6:40 p.m.
"Our fans and partners are going to love our 2015 schedule," Miller said. "It includes our annual July 3 Oregon State Credit Union Fireworks Night and our annual matchup with the Albany Mid-Valley Rockets American Legion team on July 2.
"We will also have fireworks on June 20 and August 8. We'll announce our complete promotional schedule shortly. With the addition of the new 'Banners' hospitality deck in left field we are looking forward to another fun summer at Goss Stadium!"
The annual WCL All-Star Game is July 20 at Joe Martin Field in Bellingham.
For the second year in a row, the 12-team WCL will be aligned into three divisions. Corvallis will compete in the South Division with Bend, Klamath Falls and Medford; Kelowna, Yakima, Wenatchee and Walla Walla comprise the East Division and Bellingham, Cowlitz, Victoria and Kitsap comprise the West Division.
The Knights will play three three-game series against South Division rivals Bend, Klamath Falls and Medford. They will play a home-and-home with Yakima Valley; host series against Bellingham, Wenatchee, Victoria, Kitsap and Cowlitz, and travel for series at Walla Walla and Kelowna.
The division champions and a wild-card team (the non-champion with the best record) will advance to the best-of-three divisional playoffs, set for Aug. 12-13. The best-of-three WCL Championship Series will run Aug. 15, 17-18.
The 2015 schedule:
JUNE: 3, Portland Sea Dogs. 5-7, @ Bend. 9-11, Bellingham. 12-14, @ Wenatchee. 16-18, Yakima Valley. 19-21, Bend. 23-25, @ Bend. 26-28, @ Medford. 30, Humboldt Crabs.
JULY: 1, Humboldt Crabs. 2, Mid-Valley Rockets. 3-5, Victoria. 6-8, @ Medford. 9-11, Kitsap. 13-15, Klamath Falls. 16-18, @ Yakima Valley. 20, WCL All-Star Game, at Bellingham. 21-23, Cowlitz. 24-26, @ Klamath Falls. 28-30, Klamath Falls. 31, Oregon Collegiate Baseball League All-Stars.
AUGUST: 1-3, @ Walla Walla. 4-6, @ Kelowna. 7-9, Medford. 11-13, WCL Divisional Series. Aug. 15, 17-18, WCL Championship Series.