Knights' Alum Dane Lund Catches Perfect Game.
March 24, 2015
Frosh Hurler Drew Rasmussen of Oregon State Makes History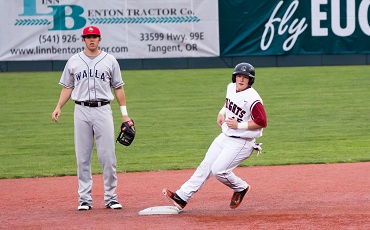 Knights' alum Dane Lund of Oregon State (pictured running the bases in 2014 for Corvallis) caught a perfect game on Saturday, March 21 at Goss Stadium. The gem was tossed by frosh right-hander Drew Rasmussen, who baffled the Washington State Cougars from start to finish as the Beavers topped WSU 3-0.
Rasmussen struck out 10 and didn't allow a single base runner. It was Oregon State's first perfect game in school history.
Lund has been making history at Goss Stadium since 2011. A native of Astoria, Oregon, Dane first signed a 10-day contract with the Corvallis Knights as a frosh at Mt. Hood Community College.
He went on to make the team, win two West Coast League titles with the Knights (2011, 2013), was named the club's MVP in 2013, earned first-team all-WCL honors in 2013 as a catcher and honorable mention all-WCL recognition in 2014.
Dane played four seasons in Corvallis. His brand of play made him a fan favorite with Knights' fans.
No other collegiate Knight has played that many seasons with the team.
After sitting out a spring season following his transfer from San Jose State to Oregon State, Lund is enjoying a productive senior year hitting .364 with two stolen bases and catching masterfully for the 18-5 Beavers.
We had the fortune of catching up with Dane on the phone yesterday. Below is a recap of our interview.
Knights: Where does catching a perfect game rank with your other baseball achievements?
Lund: It is definitely #1. I've experienced some great team achievements like our two titles with the Knights and two state championships at Astoria High School, one in baseball and one in football, but this was definitely #1. It's probably the coolest thing I've done being part of the game.
Knights: Did you feel like you called or caught your best game?
Lund: Nate Yeskie, our pitching coach, calls every pitch of every game. He's seriously one of the best at calling pitches. It was actually an easy game to catch. Rasmussen was nearly 100% on during the whole game. He only missed a handful of spots. I thought I caught well, but he was so good. It was one of the most fun games I've ever caught, and one of the easiest.
Knights: When did you think Rasmussen had a shot at doing something special?
Lund: I remember looking at the scoreboard in the 6th, and after that I got a good feeling, just knowing that he was on, and pitching like he was, that he could do something special.
Knights: How much fun are you having this year, your senior season?
Lund: I'm so glad I came to OSU for my senior year. This has always been where I wanted to play growing up. I am having the most fun, it's a blast. We are going to try to make this a season to remember.
Knights: What do you like most about being a Beaver?
Lund: The one thing I like the most is Oregon State's tradition. OSU has a huge tradition of winning, of having great players and of great coaches. To be a part of this is what I cherish most.
Knights: You come from some amazing baseball programs, like Astoria with Dave Gasser, Mt. Hood CC and the Knights, touch on how each program prepared you for where you are now?
Lund: Gasser really opened my eyes to what was possible for me in baseball. Mt. Hood was a perfect fit for me, how I like to play baseball and opened up a ton of opportunities for me. Building a relationship with the Corvallis Knights really propelled me to get to Oregon State, that relationship with the Knights and their coaches made for even more opportunities. I am very grateful.
Knights: How does competition in the West Coast League prepare a kid like Rasmussen for the Pac-12 or a Dane Lund to catch in the Pac-12 conference?
Lund: It does a really good job because you get to face big-time players in the WCL like guys from OSU and Arizona State. Drew pitched really well for Wenatchee, and pitched well at Goss Stadium against the Knights. Last summer really set him up for success at the Division I level.
Knights: What are your thoughts going into the San Jose State mid-week series at Goss?
Lund: I still know a couple guys at San Jose State from my time there. It will be nice to see them. We are going to play our game. It's good mid-week series for us. Looking forward it.
Oregon State plays San Jose State tonight and tomorrow at Goss Stadium. First pitch tonight is 5:35 pm.