Corvallis Knights Pitcher Brandon Choate's First-Place Washington Huskies are 13-3 in the Pac-12.
April 18, 2014
Hard-Throwing Junior Right-Hander Looks Forward to Second Summer with Knights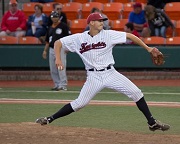 An improved slider has helped pitcher Brandon Choate (pictured at Goss Stadium last summer) slide into a new role at the University of Washington this season.
A second-team all-West Coast League selection as a closer on the Corvallis Knights 2013 WCL championship team, the junior right-hander has primarily served in a setup role during his first campaign with the Huskies following his transfer from Tacoma Community College.
"My slider has been key to my success here at Washington, as well as my fastball command and being able to keep the ball down in the zone," the 6-foot-5, 215-pounder said in explaining his successful move to Division I baseball.
Choate - who will return to the Knights when the Huskies complete their season - is 2-0 in nine appearances this spring, with a 1.80 ERA and 18 strikeouts over 15 innings pitched.
His bullpen work is a big reason why the #7-ranked Huskies lead the Pacific-12 Conference heading into this week's series with California, which started yesterday with a 4-3 Husky win in Berkeley. Washington is 26-7-1 overall and 13-3 in the Pac-12, one game and a half in front of defending champion Oregon State.
Choate said preseason disrespect has helped fuel Washington's rise to first place and its bid to earn an NCAA tournament berth and possibly host a regional at new 2,200-seat Husky Ballpark, which opened to rave reviews earlier this spring.
"We were picked to finish 10th out of 11 teams in the Pac-12. We took this pretty personal and wanted to make a statement out of this," Choate said. "We adopted a 'shock the world' mentality and we haven't looked back.
"Our older players and team leaders have stepped up and guided us though this first half of the season. Our team chemistry is something similar to that of the 2013 Knights team that won the WCL. We all want to win and will do anything to do so."
The 2013 summer season Choate alludes to was instrumental in helping him transition to Washington. Mentored again by TCC/Knights' pitching coach Connor Lambert, Choate was 1-0, 0.50 in 15 appearances, with five saves and 16 strikeouts in 17.2 innings.
"My last college summer season was great. Coach Lambert turned my career around and taught me to be successful," Choate said. "One of the keys he taught me was confidence. If you don't have confidence in yourself, who will?
"Last summer was a good transition for me to Division I. It gave me opportunities to face guys I would see throughout my season and kind of get into the groove of a higher level of play.
"My experience [at Washington] has been eye-opening. All of these players have a lot of talent. You just don't get away with the same mistakes you did at a community college. These guys will make you pay for bad pitches."
Choate said he's eager to return to the Knights, where he'll be rejoined by fellow Husky and 2013 Knight Alex Nesbitt and several other players from last year's title club.
"I know we have a lot of talent coming back from last year's team, as well as many good new players," Choate said. "I'm sure we will give all the teams a run for their money...again.
"My favorite memory of last summer was holding up the trophy with my team at home. That was an experience I'll never forget."