Ex-Knight Catcher Chris Stewart Excels with San Francisco.
July 20, 2011
Stewart Replaces Buster Posey for First-Place Giants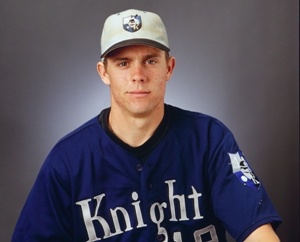 San Francisco Giants catcher Chris Stewart (pictured with the Knights) was the MVP of the 2001 Aloha Knights and the MVP of the old Pacific International League, the precursor of the current West Coast League.
A star at Riverside Community College before joining the Knights, the 29-year-old native of Fontana, California, hit .342 that summer, with five homers and 46 RBIs, and raised his professional profile significantly.
Selected in the 12th round of the MLB draft in June, 2001, he turned pro shortly after the Knights' season ended and subsequently started his quick rise through the Chicago White Sox farm system the following spring with Bristol, Virginia, in the Class A Appalachian League.
Stewart then played in Winston-Salem, Birmingham and Charlotte during a steady rise through the minors and made his major-league debut for the White Sox on September 6, 2006. Traded to the Texas Rangers in that off-season, he's since played for the Rangers (2007), the New York Yankees (2008), and the San Diego Padres (2010) and with the Giants.
Stewart signed a free-agent deal with the Giants this past January and was assigned to Fresno in the Pacific Coast League after a strong showing in spring training. He was recalled by the Giants on May 26 after a season-ending injury to starting catcher Buster Posey.
Stewart splits time with Eli Whiteside and Hector Sanchez and is hitting .206 in 32 games, with five doubles and four RBIs. Stewart went 2-for-3 this afternoon in the Giants' tough 1-0 home loss to archrival Los Angeles. Stewart caught two-time Cy Young Award winner Tim Lincecum, and is currently Lincecum's preferred catcher.
Long one of team president Dan Segel's favorite players, the Knights caught up with Stewart this week during the Giants' series with the Los Angeles Dodgers for a Q&A on a variety of topics.
KNIGHTS: Everybody wants to know about quirky Giants' reliever Brian Wilson and what he's like, what makes him tick. What are your impressions?
STEWART: "Brian Wilson is the same guy that everybody sees on TV. It's not an act; he doesn't do it to make people like him, that is just the way he is.
"I think the thing that most people don't know about him is that he is extremely intelligent. He can sit down with a USA Today crossword, and knock it out in five minutes.
"Everybody thinks he's just this goofy guy trying to get attention, but there is much more to him than what people think."
KNIGHTS: Corvallis baseball fans remember Giants' ace Tim Lincecum from his time with the Washington Huskies. What is it like catching for him? Is his stuff as nasty as it looks on TV?
STEWART: "Working with Timmy is awesome. His 'stuff' is off the charts, and he has probably the best deception in all of baseball.
"You have a 5-foot nothing guy out there, weighing 150 pounds on a good day, twisting and contorting his body, and then he releases a mid-90's fastball at you, or his devastating changeup and I just feel sorry for the hitters.
"Truly one of my favorite pitchers I have ever caught."
KNIGHTS: "What's it like to be recalled to the majors again, even if it took an unfortunate injury to Buster Posey to speed up the process?
STEWART: "It is truly a blessing for what I call my second chance.' I had a somewhat significant stint with the Rangers in 2007, and until that season was over and I had a chance to look back on things, I didn't realize how much I took for granted.
"The time between my last game with them until my first game with the Giants has been a mission to be the best player I can be every single day, and I believe that if it were not for me getting sent down in 2007, I wouldn't be here today. I am trying to soak up as much of the fun and excitement while striving to continually be the best player I can be.
"The circumstances for me being here, however, are awful. Nobody wants to be the guy who takes the place of someone who had a devastating injury, especially a player and person like Buster Posey.
"In that same breath though, that is the reason why I was down in the minor leagues, in case something like this did happen and the team needed me."
KNIGHTS: What are several things about major-league life that most fans don't know, such as tipping the clubhouse people, and the others who work for the home or visiting team?
STEWART: "There are numerous things that people don't know and probably would be extremely jealous about. First of all, we have at least three clubhouse people, or 'clubbies' as we call them, helping us out with whatever we may need.
"They do our uniform laundry, clean our baseball shoes and cleats, get us shirts or whatever else we may need, and numerous other jobs. They work their butts off, but in the end the players take care of them pretty well in the form of tipping at the end of the year.
"Another thing is in San Francisco we have our own chef in the clubhouse, and he is pretty darn good. We will have both pre-game and postgame meals for us, and a wide variety of other foods throughout the day.
"He also makes some pretty mean soups. We are pretty spoiled in the clubhouse, and we take full advantage of it."
KNIGHTS: What's your favorite big-league city to visit, and why?
STEWART: "One of my favorite cities to visit was San Francisco, and now I get to actually play here. I love the city, because of the close proximity of all the sights and sounds.
"Our hotel is right in downtown where there is great shopping and restaurants. You can hop in a cab and take a five-minute right to the piers for some sightseeing of all varieties. Great town, and I feel so fortunate I get to play here."
KNIGHTS: Do you catch yourself looking around in awe at Wrigley Field or Yankee Stadium or Fenway Park, or are those places just another stadium, just a place to work?
STEWART: "When I went to Wrigley, Yankee Stadium, and Fenway, I soaked in as much of the atmosphere and history as I could. I thought about all of the players who had played on the same field and it still gives me chills.
"The history behind each one is incredible, and I felt unbelievably fortunate to get to opportunity to join those players in history. Once the game started, then it was all business, and I was there to beat the other team."
KNIGHTS: Do you talk to opposing batters, or just stay quiet and do your job?
STEWART: "I will say 'hi' or 'how's it going' to guys I know, but once the game starts I am all business. Then after we beat you on the field we can go out and have a drink after."
KNIGHTS: Is it hard to hear the pitcher when he puts his glove over his face? Do you speak Spanish to your pitchers who might not be very fluent in English?
STEWART: "It's not hard, and I don't even know why we do it. It is probably incredibly hard to read lips from that far away, but somebody started it at one point in history and now everybody does it.
"I speak some broken Spanish when necessary, but pretty much all Latin pitchers understand pretty good English, and at least enough to comprehend what I am trying to tell them. The communication barrier isn't really a factor in baseball lingo."
KNIGHTS: Do players in the clubhouse watch MLB or Baseball Tonight as closely as the fans watch those programs?
STEWART: "We probably watch it even more closely. We have TVs throughout the clubhouse, and if there is a game televised it will definitely be on at least one TV.
"We follow our opponents, not just from an entertainment standpoint, but from an educational one as well. We are trying to find information that will help us beat a team when we play them next.
KNIGHTS: When you're catching, how much time to you spend on the pregame scout of the opponent?
STEWART: "I spend as much time as I deem is necessary for me to feel prepared to play that team. We have video of past games from every team, and advanced scouting reports from our scouting department, and many other tools to help us in our preparation.
"Sometimes, if I have played a team before, I will only spend a 'refreshing' amount of time to remind me of what I knew before. If it is a team I haven't played before, I will spend much more time getting to know the hitters and the best way for our pitcher that day to get them out.
"So it all depends on how comfortable I feel about my knowledge regarding the opposing team."
KNIGHTS: Minor-league baseball must be a grind. How do you stay motivated every day, with the bus rides, early plane trips, low per diem and salary, etc., that are the fact of life in the minors?
STEWART: "The sole motivation is for what I am experiencing right now; the hope that you can one day fulfill your career goal.
"There is no better job than to get to put on a Major League uniform and play in front of thousands of people every night. All the hardships in the minor leagues are very small in regards to the possible reward coming from it."
KNIGHTS: What do you remember most about playing for the Knights?
STEWART: "I remember many great things about playing for the Knights.
"First were the players and the coaching staff. We had a great group of guys in 2001, and I think it is always tough bringing together a team of players from all over the country, who have never played with each other, and expect them to bond like we did. We were truly one team on the same mission to win a baseball game every single night, and we were pretty good at it.
"Another memory I had was the travel throughout the Northwest and Canada that we did that summer. I had a chance to see parts of the country that I hadn't seen before, and perhaps may not have seen if it were not for that summer. That was a great experience, and one I will truly never forget."