Beavers Develop with Knights.
March 2, 2011
Frosh Southpaw Ben Wetzler Projects as Future Ace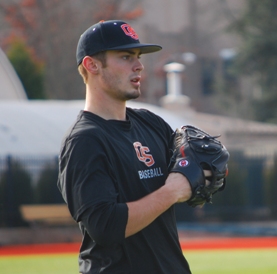 The Oregon State baseball program generally tries to funnel several of its best young players to the Corvallis Knights for an important summer of seasoning in the West Coast League.
Pitchers Josh Osich, Taylor Starr, Sam Gaviglio and Matt Boyd played for the Knights after their freshman campaigns, as did infielders Carter Bell and Danny Hayes.
Pitcher/first baseman Dylan Jones came aboard just before his junior season, after two years at Mt. Hood Community College and starred for Corvallis for two summers.
Catcher Andrew Susac and infielder Jake Rodriguez joined the Knights right out of high school.
This year, however, the Beavers may have outdone themselves. Foremost among the four Beavers assigned to the Knights is left-handed pitcher Ben Wetzler (pictured) of Clackamas High, one of the most-decorated Oregon high school players in recent memory and a 15th-round selection in the Major League draft this past June.
"It's going to be a lot of fun" playing for the Knights, Wetzler said. "My high-school catcher, Corey Davis (of Wright State), is going to play for the Knights too so that will be fun.
"It will be nice to get back together with him.
"I don't know too much about the Knights and the league, but I'm very excited to get going. It will be very good training for the minor leagues; my longest bus ride in high school was 40 minutes.
"Playing professional baseball is my goal and my dream. A summer with the Knights will be a very good learning experience."
Knights' skipper Brooke Knight described Wetzler as an "exciting" signing, a potential leader in their drive for a fifth consecutive West Division regular-season championship.
"We love the fact that Ben is a home-grown Oregonian who has chosen to make sure his road to Omaha starts in Corvallis," Knight said. "He's a talented left-handed arm with a bright future."
Wetzler, 19, is expected to play a major role for the Knights, who open their fifth season in Corvallis on June 3 with a three-game series at Walla Walla.
One of four from OSU on this year's club, he's probably the Knights' most highly-touted Beaver since Osich, an all-everything at Bishop Kelly High in Boise who helped lead the Knights to the 2008 West Coast League championship after his first season at OSU.
"He's a true athlete and a sound competitor, the kind of kid who makes guys around him better," Knight said of Wetzler. "As long as his innings count is reasonable this spring, we hope he'll be a top candidate for one of our starting spots as well.
"We expect him to have a strong spring with Oregon State, and to provide quality innings. We hope to have a chance to continue his development during (the Knights') 2011 campaign at Goss Stadium."
Wetzler graduated from Clackamas High this past June after compiling one of the most impressive resumes of any Oregon pitcher in recent memory.
- Ben was the 2010 state Gatorade Player of the Year, and Louisville Slugger Player of the Year after going 12-0 with an 0.32 ERA ad leading Clackamas to the 6A state championship.
- The southpaw was the Three Rivers League Player of the Year, as a junior and senior.
- He played in the Oregon 6A/5A All-Star Series, and was named Oregon's top high school player by Baseball Northwest.
- In three years at Clackamas, Wetzler was 28-3 overall, with five saves, a microscopic 0.87 ERA, and 342 strikeouts and just 53 walks in 201.1 innings.
- He also set the school single-game strikeout record by fanning 17 hitters against West Linn.
"Our state championship capped off a perfect high-school career," Wetzler said. "It was awesome going out with my best friends and winning a state title. It was a great experience."
Wetzler then was drafted by the Cleveland Indians this past June. And while the thought of turning pro was tempting - he's wanted to be a professional baseball player as long as he can remember - he rebuffed the Tribe, joined the Beavers, and started their second game of the season.
"I wasn't very close at all to signing, I was very far from it," Wetzler said. "I was 99 percent sure, the whole way, I was going to school. I always wanted to be a Beaver.
"I grew up in Monmouth until the third grade; I've always been close to Oregon State.
"My stepdad (Wynn Mayfield) attended Oregon State and my mom's (Kathy Mayfield) always had close ties to the agricultural program.
"Staying in my home state was really important to me so my family could always come down and watch."
Wetzler didn't pitch competitively during fall practice but quickly established himself in the rotation in spring drills. He gave up one unearned run and had eight strikeouts in 4 1/3 innings against Gonzaga on February 19 in his OSU debut.
He lost his second next start, at Texas A&M-Corpus Christi on February 26, but he said the Gonzaga game is a truer indicator of his ability.
"I just got in my own head, got some negative thoughts that just crept up and I was fighting the whole game to get them out," he said. "Most of it was self-inflicted.
"I got away from who I am, I was trying to be a 'feel' pitcher, and that's not me. I'm an aggressive, competitive person and I just got away from that."
If the weather cooperates, Wetzler will get a third opportunity for his first OSU win - and a chance to lower his uncharacteristically-high 7.36 ERA - when he starts one of OSU's four home games against Hartford this weekend.
"I just have to go back to being the aggressive, competitive person I am," he said. "I just can't think out there. I just have to pitch like I know how, like I've always done."
Beaver Bites: Ex-Knight Sam Gaviglio was named Pac-10 Pitcher of the Week for his two-hit shutout performance vs. University of Connecticut at Corpus Christi, Texas...Ex-Knights' Gaviglio, Boyd, Susac, Jones and Hayes are pictured in the 2011 Oregon State schedule poster...Susac is being featured in the new "I am Orange" radio spots...Joining Wetzler on the 2011 Knights are fellow freshman Scott Schultz (pitcher), Tom Zarosinski (pitcher) and Brandon Defazio (infielder)...Schultz has made two relief appearances and logged 7 innings (1-0, 3.86)...20 Beavers have played on the Knights since the team's relocation to Corvallis in 2007 including Erik Ammon, Brett Casey, Blake Keitzman, Brad Kidd, Greg Peavey, Braden Wells, Logan Lotti, Josh Osich, Taylor Starr, John Wallace, Carter Bell, Sam Gaviglio, Dylan Jones, James Nygren, Andrew Susac, Brent Warren, Matt Boyd, Danny Hayes, Jordan Poyer and Jake Rodriguez.