Knights Advance to WCL Championship Series.
August 16, 2013
Corvallis to Face Wenatchee in WCLCS Rematch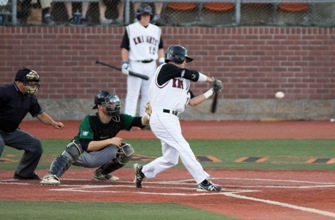 The Corvallis Knights swept the Medford Rogues to advance to the WCL Championship Series (WCLCS) vs. the WCL defending champion Wenatchee AppleSox. This will be the fourth time these two rivals have met in the WCLCS (2008, 2009, 2012, 2013) and is a rematch of last summer's finals.
Corvallis beat Medford 8-6 at Harry & David Field this past Tuesday and closed out the series at Goss Stadium on Wednesday by beating the Rogues 7-3 before a crowd of 1,167.
Wenatchee (29-24) advanced by beating North Division champion Walla Walla two games to none.
The Knights' Divisional Series offense was led by infielder Peter Van Gansen of Cal Poly (pictured) who collected 6 RBIs over the series and utility man Kavin Keyes of Oregon State who went 6-for-8 with a homer. The day prior to the South Divisional Series, Van Gansen was named WCL Player of the Week for August 5-11.
Jorge Perez of Grand Canyon won game one and WCL ERA leader Elliot Surrey of UC Irvine picked up the win in game two.
Perez (2-1, 1.67) is slated to start game two at Goss Stadium on Monday, August 19 and if a game three is necessary Surrey (6-1, 1.27) is the probable starter for the Knights on Tuesday, August 20 at Goss Stadium.
Corvallis will open the WCLCS with Andrew Naderer (3-1, 2.48) of Grand Canyon on the mound at Wenatchee on Saturday, August 17. Naderer and Perez are no strangers to post-season pitching as both got starts in the 2013 NCAA DII World Series in Cary, North Carolina and both threw complete games.
This past spring, Naderer posted the Antelopes' lowest ERA at 2.38 and went 9-3 over 16 starts while Perez went 8-4 with a 2.46 ERA over 107 innings pitched.
The Knights led the WCL in stolen bases with 149 and feature three players with over 20 steals in WCL action including league-leader Grant Melker of San Diego with 26, Dane Lund with 25 and Blake Drake of Concordia with 20.
Four Knights hit over .300 in the regular season with Lund leading the team at .343 followed by Cody Lenahan of Portland (.314, 36 RBI), Van Gansen (.310, 24 RBI) and Kevin Kline of Dixie State (.302, 4 HR, 34 RBI). Corvallis loses Kline after game one as he needs to report to school by August 19.
Wenatchee is led by left-handed hitters Connor Spencer of UC Irvine and UCLA Bruin-to-be Brett Stephens. Spencer hit .380 with 14 doubles, 3 homers and 36 RBIs this summer and went 4-for-4 in the North Divisional Series (WCLNDS) clincher on Wednesday. Stephens hit. .326 with 13 doubles, 4 home runs, 10 stolen bases and 23 RBIs, and went 3-for-5 in the WCLNDS finale.
During the regular season, Wenatchee took two of three games (June 5-7) at home as the Knights and Sox opened the season at Paul Thomas Sr. Field. Corvallis lone win was in game two of the series 6-2 as future Duck Stephen Nogosek went 3-for-4 with two runs scored. The Knights captured the season series by sweeping the Sox at Goss Stadium (July 8-10). The Corvallis bullpen came up big in the series finale, a Knights' 6-3 victory, as Alex Nesbitt of Washington got the win in relief tossing 3.2 innings of scoreless ball while striking out 5, walking none and allowing only one hit; and Perez recorded a save by closing with three scoreless innings while striking out 3, walking none and allowing two hits.
Southpaw Andrew Naderer will look to neutralize Wenatchee's tough left-handed bats tomorrow night at Paul Thomas Sr. Field. The AppleSox have announced Davis Engel (4-4, 4.80) of Central Washington as their WCLCS opening game starter. First pitch is 7:05 pm.
Corvallis enters the WCLCS on a 12-game win streak and 19-game home win streak. The Knights finished the WCL regular season with a 37-17 mark and are 44-17 overall, and an impressive 29-4 at Goss Stadium.
Wenatchee and Corvallis have been doing battle since 2000 and have been league leaders since the WCL was launched in 2005.
The Sox lead the all-time series 36-34 and hold a 2-1 advantage in the WCLCS with series wins in 2009 and 2012.
Corvallis looks to even things in 2013. You can catch all the action on the Knights' flagship station KEJO 1240 AM. The Knights host game two of the WCLCS on Monday, August 19 at Goss Stadium. First pitch is 6:40 pm. Gates open at 6 pm.
Below are the Knights' regular-season records by year vs. Wenatchee:
2000 - 2-1 at Wenatchee
2001 - 3-0 at Wenatchee
2002 - 1-3 at Wenatchee
2003 - No games
2004 - No games
2005 - 0-3 at Wenatchee, 1-2 at Gresham
2006 - 1-2 at Wenatchee, 1-2 at Gresham
2007 - 1-2 at Wenatchee, 2-1 at Corvallis
2008 - 1-2 at Wenatchee, 3-0 at Corvallis
2009 - 2-1 at Wenatchee
2010 - 2-1 at Wenatchee, 3-0 at Corvallis
2011 - 1-2 at Wenatchee, 1-2 at Corvallis
2012 - 1-2 at Wenatchee, 1-2 at Corvallis
2013 - 1-2 at Wenatchee, 3-0 at Corvallis
Post-season and tournament records by year:
2001 - 0-1 at Kamloops International Baseball Tournament
2003 - 0-1 at PIL Tournament in Yakima
2008 - 1-0 at Wenatchee, 1-0 at Corvallis
2009 - 0-1 at Wenatchee, 0-1 at Corvallis
2012 - 1-1 at Wenatchee, 0-1 at Corvallis
WCL regular-season records since the league was established:
2005 - Sox 29-7, Knights 27-9
2006 - Sox 27-15, Knights 25-17
2007 - Knights 27-15, Sox 23-18
2008 - Knights 31-11, Sox 23-19
2009 - Knights 38-10, Sox 34-14
2010 - Knights 31-17, Sox 29-19
2011 - Sox 39-15, Knights 37-17
2012 - Sox 37-17, Knights 32-22
2013 - Knights 37-17, Sox 29-24
Total - Knights 285-135, Sox 270-148
Division titles (since 2007 when divisions were implemented):
Knights - 7
Sox - 5
WCL titles:
Sox - 5
Knights - 2
Best record in WCL:
Knights - 4
Sox - 3
Recap of milestone moments in the Sox/Knights rivalry:
2000 - The expansion AppleSox won the first meeting between the two teams 6-4 on June 17 at Paul Thomas Sr. Field before a crowd of 865. Current UC Santa Barbara head coach Andrew Checketts earned the very first Knights' win vs. the Sox the following day as the Knights beat Wenatchee 12-1 in the first game of a doubleheader. Checketts tossed a complete game and Knights' team president Dan Segel went 2-for-3 with 3 runs scored and 2 RBIs as an injury replacement at third base, Segel's final year playing semi-pro baseball.
2001 - Under current PLU skipper Geoff Loomis, the Knights swept Wenatchee at Paul Thomas Sr. Field, the only road sweep by the Knights of the Sox, which was current Wenatchee manager Ed Knaggs' rookie season as the AppleSox head coach. Current New York Yankees starting catcher Chris Stewart went 6-for-9 with 5 RBIs in the series. USC pitcher Tim Petke threw a two-hit shutout in the series finale, the only complete-game shutout ever tossed vs. Wenatchee by a Knight.
2005 - Wenatchee visited the Knights for the very first time on July 22nd as the Aloha Knights hosted the Sox at Mt. Hood CC's Oslund Field. The Knights picked-up their only win vs. Wenatchee that season as Aloha won their first home game against the Sox 4-3 behind masterful pitching by future pros Zach Bird of Mt. Hood CC/Washington State and Garrett Parcell of Cypress College/San Diego State.
2006 - The AppleSox broke the Knights heart on the last day of the regular season (August 6) at Oslund Field. The Sox and Knights were scheduled to play a season-ending doubleheader at Aloha's home field, and the Knights only had to win one game to advance to the WCCBL Championship Series vs. first-place Spokane. But with a double-header sweep, the Sox would advance to play the RiverHawks. In two tightly contested games, future big leaguers Tommy Milone of USC (now with the Oakland A's) and Clay Mortensen of Gonzaga (now with the Boston Red Sox) threw complete games to earn 3-1 and 2-1 wins, respectively, knocking the Knights out of the playoffs. The Sox advanced and swept the RiverHawks to repeat as West Coast League champs.
2008 - The Knights and Sox met for the first time in the WCL Championship Series. Corvallis won game one at Paul Thomas Sr. Field in an epic extra-inning battle that saw the Knights go up 4-3 in the 10th, the Sox tie it in the bottom of the 10th and Corvallis score two runs in the 11th to earn the 6-4 victory. OSU's John Wallace was the star as the left-fielder went 2-for-3 with two runs scored, an RBI and key assist. Corvallis earned its first WCL title by beating Wenatchee 4-1 at Goss Stadium in game two. Josh Osich of Oregon State earned the win tossing 8 innings of one-run ball, center fielder Adam Melker of Cal Poly delivered the game-winner in the first-inning stroking a bases-loaded, bases-clearing double and first baseman Dean Green of Oklahoma State blasted a solo home run. Osich currently pitches in the San Francisco Giants organization (AA), Melker plays in the St. Louis Cardinals organization (AA) and Green is developing in the Detroit Tigers farm system (A). During the regular season, Corvallis swept the Sox at home. Corvallis would record regular-season home sweeps vs. the AppleSox again in 2010 and 2013 at Goss Stadium.
2009 - The AppleSox upset the Knights sweeping Corvallis in the WCL Championship Series. The Knights posted their franchise-best regular-season mark that summer, winning the West with a 38-10 record. Wenatchee won game one of the series 4-1 at Paul Thomas Sr. Field and then sent 1,155 Knights' fans home with heavy hearts beating Corvallis 4-2 in game two at Goss to sweep the series and earn their 3rd WCL title. The Knights battled in the finale as Linn-Benton southpaw Liam Baron twirled 7 shutout innings of relief and Adam Melker blasted a solo homer. However, Sox closer Paris Shewey of Washington State was just too much earning his second save of the series. During the regular season, current San Diego Padres prospect Matt Andriese of UC Riverside and Colorado Rockies 2011 first-round draft pick Tyler Anderson of Oregon combined to shutout the Sox 4-0 at Paul Thomas Sr. Field on July 10.
2012 - Corvallis and Wenatchee met up once again in the WCL Championship Series. The Sox took game one at Goss 9-8 as WCL MVP Mitchell Gunsolus of Gonzaga homered. Knights' first baseman Greg Mahle of UC Santa Barbara went 3-for-5 with 3 RBIs to lead a valiant comeback cutting the Sox lead from 9-6 to 9-8 in the bottom of the 9th much to the delight of the 1,149 Knights' fans in attendance. But Tyler Kane of UW, currently a Miami Marlins farmhand, held Corvallis off to record the save as the Knights could not overcome a shaky defensive performance (4 errors). Mahle started game two on the mound, handcuffing the Sox, as Corvallis forced a rubber game by winning at Wenatchee 6-2. Greg pitched 5 2/3 gutty innings to earn the win. Game three was all Sox as Wenatchee pulled away early thanks to an inside-the-park three-run home run by WCL HR leader Taylor Sparks of UC Irvine. With Wenatchee's 8-3 series finale victory, the Sox earned their 5th WCL title.
MLB alums:
Knights-
* Mike Thurman, Oregon State (Expos/Yankees)
* Bobby Scales, Michigan (Cubs)
* Chris Stewart, Riverside CC (White Sox/Rangers/Yankees/Padres/Giants)
* Matt Hague, Washington/Oklahoma State (Pirates)
* Tommy Hanson, Riverside CC (Braves/Angels)
* Bud Norris, Cal Poly (Astros/Orioles)
* Brent Morel, Cal Poly (White Sox)
* Marc Rzepczynski, UC Riverside (Cardinals/Indians)
AppleSox-
* Jason Hammel, Treasure Valley CC (Rays/Rockies/Orioles)
* Cole Gillespie, Oregon State (Diamondbacks/Giants/Cubs)
* Tommy Milone, USC (Nationals/A's)
* Clay Mortensen, Treasure Valley CC/Gonzaga (Cardinals/A's/Rockies/Red Sox)
* Steven Ames, Columbia Basin College/Gonzaga (Marlins)