Former Knights' Shortstop Shines at Cal Poly.
April 3, 2015
Peter Van Gansen Enjoys Trip Back to Corvallis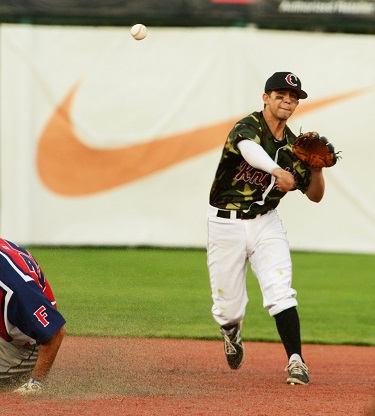 Former Knights all-WCL infielder Peter Van Gansen said he'd been eagerly anticipating last weekend's series at Oregon State ever since it was scheduled in the offseason.
"It was definitely circled on my calendar, and I was excited to come back," Cal Poly's slick-fielding shortstop said this past Saturday, speaking after a 7-2 win over the Beavers in Game 2 of the three-game set between the defending Big West (CPU) and Pacific-12 (OSU) conference champions and long-time partner schools of the Knights.
"I remember all the friendships I made, I've kept in touch with a lot of the guys," he said. "I remember the community, how much they got together and got behind us, and definitely my host family."
Van Gansen certainly didn't disappoint in his first trip back to Goss Stadium since 2013, when he anchored the infield and earned all-West Coast League honors at shortstop while helping the Knights capture their third WCL championship.
Batting in the No. 2 hole behind reigning BWC Player of the Year Mark Mathias, Van Gansen had a hit in each game and went 3-for-10 (.300) overall, with three runs, an RBI and three walks.
He also made several head-turning defensive plays and handled 12 chances without an error as the Mustangs took 2 of 3 from the Beavers.
A second-team all-BWC selection as a sophomore in 2014, the personable 5-foot-9, 170-pounder from Alemany High School in San Fernando, Calif., is having a spectacular spring and making a solid case for first-team honors as a junior.
Peter is hitting a career-high .382 (39-102) in 25 games heading into this weekend's conference-opening series at Cal State Fullerton. He has six doubles, two triples, 14 RBIs, and a solid .979 fielding percentage, with only two errors in 94 chances.
"I'm sticking with my approach, working the count, and getting the pitch that I want to swing at," he said in explaining the 100-point jump in his batting average. "That's really been helping me.
"I felt like I worked harder this year, because I finally got comfortable with everything."
He also has become more comfortable in a leadership role, now that he's a three-year starter and one of the Mustangs' veterans.
"Knowing I have to be a leader on this team, I've stepped up," he said. "I just decided to work my butt off and it's been working so far."
Van Gansen spent the 2014 summer with the Eau Claire (Wis.) Express in the Northwoods League. He won the team's Gold Glove Award, and also played in the NWL's top prospect series.
"It was definitely a grind," he said of the Northwoods League, which plays a 70-game league schedule, with considerably more travel between its far-flung franchises. "A lot of my coaches told me it was more like minor-league ball.
"I definitely had fun [in Corvallis], and I would have come back [in 2014] if I could. I loved it here. I didn't succeed as much at Eau Claire as I did here, but I liked it. I learned a lot."
Van Gansen is eligible for the Major League draft after this season and has long dreamed about playing professionally. He's keeping any thoughts of the draft well on the back burner, however, and not looking ahead.
"I'm just trying to play it one game at a time, have fun and not think about the future," he said. "I'm staying in the moment, pretty much."
He predicted local fans will enjoy watching this year's Knights from Cal Poly, freshman outfielder Josh George and sophomore pitcher Slater Lee.
"Josh is definitely a quick guy, with a very high baseball IQ," he said. "He hustles, has a great arm, is a good fielder and a good batter.
"Slater is a bulldog for us, he will compete with anybody. He'll never say no to a challenge."
He also said the Mustangs can use their series win over the Beavers as a springboard to a better second half and a possible return to the NCAA tournament.
"It definitely has made us a better team, knowing we can compete with one of the top teams in the nation," he said. "It's going to give us confidence going into conference play.
"We start with Cal State Fullerton, so it's a big series."
Cal Poly opened its road series with the Titans last night with a 5-0 win. Peter went 1-for-4 and Knights' alum Casey Bloomquist got the win as the junior right-hander tossed 7.2 innings of shutout baseball.