Ex-Knights' Hurler Casey Bloomquist Blossoms as Cal Poly Sophomore.
March 25, 2014
Leads Mustangs to #5 National Ranking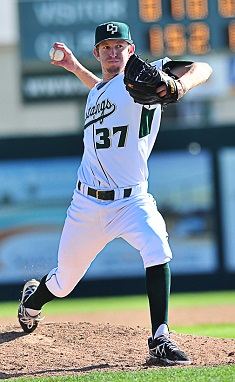 The seeds of success planted by Casey Bloomquist (pictured) in his freshman year at Cal Poly and his summer with the Corvallis Knights have fully blossomed during his sophomore year.
The 6-foot-3, 180-pound right-hander from Bakersfield, Calif., is 5-0 with a save and a sparkling 1.82 ERA in seven games for the streaking Mustangs, who this week cracked the Top 10 in all five national polls following a series victory over California this past weekend.
Cal Poly is 20-4 overall and has won 10 of the last 11 games heading into this weekend's Big West Conference-opening series with UC Davis in San Luis Obispo. Bloomquist was a key catalyst during that span, with wins over Cal and Wagner and a save against Northern Illinois.
Bloomquist has 27 strikeouts and only seven walks in 34.2 innings. Opponents are hitting just .246 against him and he has averaged more than six innings per start.
"My mental side of pitching has been much better," Bloomquist said. "Just being able to clear my mind and focus on the task at hand, instead of trying to do too much, and just having confidence in myself" has been instrumental in helping him become a solid No. 2 stopper behind staff ace Matt Imhof.
Casey was a highly-touted recruit out of Bakersfield Christian High School, where he earned numerous all-league, all-region and all-state honors. He made an immediate impact with the Mustangs; he moved into the weekend rotation as the Sunday starter in the final two weeks of the regular season and went 6-2, 5.02 in 52 innings, with 39 strikeouts.
He then went 4-0 while posting a 3.45 ERA in seven starts with the Knights, with 24 strikeouts in 41.2 innings. He defeated Victoria, Medford, Bellingham and Bend, and earned honorable mention all-WCL honors.
The combined workload at both places prepared him for his more prominent role as a weekend starter this spring.
"It helped a lot just by getting innings and experience," he said. "It also built my confidence. I had an idea of what to expect, and how to prepare myself mentally and physically in the weight room.
"The Knights and Cal Poly both believe this translates to success on the baseball field."
Bloomquist said he;s still very close to, and stays in touch with, many of his teammates from the 2013 Knights.
"The friends I made in Corvallis will last a lifetime! Also winning a championship was pretty fun too!" he said. "We talk all the time about our past summer!"
And he said the entire experience - road trips, five or six games a week, no classes and increased personal responsibility - in summer ball was a preview of the professional career he someday hopes to have.
"My summer with the Knights was very eventful," he said. "I learned a lot about the game and also the travel schedule that is similar to the minors. The level of competition was fun and made you compete."
Cal Poly coach Larry Lee generally does not assign players to the same summer team two years in a row. He believes a new environment means a new set of challenges to overcome, and a different living experience.
So this summer Bloomquist and Van Gansen, a first-team all-WCL selection in 2013, will be teammates on the Eau Claire (Wisc.) Express in the Northwoods League.
"It will be good to go to the grind of the Northwoods League and fun to play with Peter again, and also with many other players across the nation!"
Bloomy, as he's known to his teammates, said. "We are excited. We just know it's gonna be an exhausting experience playing 77 games!"
He added, however, that Knights' fans will enjoy this year's new herd of Mustangs, pitchers Slater Lee and Justin Calomeni and infielder Alec Smith.
"All three are very talented players and kind young men, and will represent Cal Poly well," he said. "They will fit into the Knights' program perfectly."
### Check out Casey Bloomquist's dance moves in the Knights' Get Lucky video from summer 2013.
### To read about other Cal Poly players who played in the West Coast League, check out the league's website feature WCL alums power the Big West.