Franchise Total and Per Game Attendance Record in Sight.
July 28, 2010
Crowd of 2,930 at Goss on July 3rd Sets WCL Single-Game Attendance Mark for 2010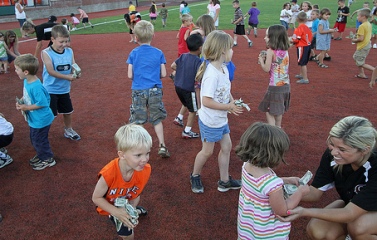 The Knights attendance has grown steadily since the club relocated to Corvallis in 2007.
The team's per game average went from 439 in 2007 to 640 in 2008 to 911 last summer.
Promotional nights are key to attracting new fans. The Knights' annual July 3rd Fireworks Night has sold out for two consecutive seasons.
Corvallis set a Goss Stadium and West Coast League single-game attendance record by packing 3,506 fans into the ballpark on July 3, 2009.
Seating capacity at Goss is 2,930 in the summer, and the Knights drew a crowd of 2,930 at this season's July 3rd show as there were no standing room only tickets sold.
New promotions like Ladies Night and Paint the Park Pink Night have created excitement at Goss, while Miser Mondays and BI-MART 2-for-1 Nights have been very popular (considering the economy) and drawn very well.
$1,000 Kids Dash for Cash Nights were hits again. Pictured above are several kids with handfuls of cold hard cash at the Les Schwab Dash for Cash on Saturday, July 24.
The Knights total attendance after 25 home dates is 23,358 for a per game average of 934. Corvallis expects to finish with a bang and push the team's per game average well over 1,000.
Corvallis has reported seven crowds of over 1,000 this season including the 2,930 at OSU Federal Credit Union Fireworks Night, 1,367 at Pepsi Cap Night, 1,164 at Quality Painting of Oregon Miser Monday, 1,051 at Les Schwab $1,000 Kids Dash for Cash Night, 1,045 at Pioneer Telephone Military Appreciation & Fireworks Night, 1,036 at Giving Back Night presented by Samaritan Health Services and 1,027 at Santiam Christian Schools Faith Night
The club features one more fireworks display on Saturday, August 7, its longest of the summer, and Wilson Motors Night on Friday, August 6 (Wilson Motors purchased 1,000 tickets and is distributing them for FREE at its dealership on 5th & Buchanan).
The next home game is Pacific Power Get Green Night presented by Calapooia Brewing Company on Wednesday, August 4th. The first 500 fans get $1 bills, and five lucky ticket holders will win $100 each. Get Green, literally, on August 4th.