Big Leaguers that were Almost Knighted.
June 29, 2014
Chase Headley of San Diego and Joe Kelly of St. Louis Top a List of MLBers that Signed with the Knights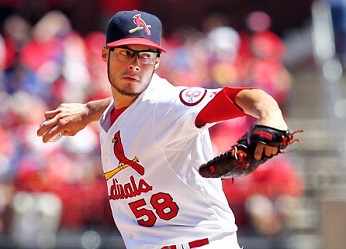 Over the past 25 years, the Aloha and Corvallis Knights have been very fortunate to roster some great players, such as future major leaguers Bud Norris, Chris Stewart, Marc Rzepczynski, Tommy Hanson, Brent Morel, Matt Hague, Bobby Scales and Mike Thurman.
But unbeknownst to most, there is also a list of players who almost made it to Gresham or Corvallis, but who never arrived for a wide range of reasons.
The most well-known "almost Knight" was third baseman Chase Headley of University of the Pacific, the sweet swinging left-handed hitter now with the San Diego Padres. He signed with the Knights, but left Pacific after his freshman season and transferred to Tennessee. The Vols' coaching staff had other plans for Chase, and as a result he didn't play for the 2003 Knights.
Fireballer Joe Kelly (pictured) of the St. Louis Cardinals was set to pitch for the 2007 Knights after earning Big West Conference Pitcher of the Year honors as a freshman at UC Riverside. However, he was nabbed by Team USA and never made it to Corvallis.
UC Riverside junior pitcher Chris Smith didn't make it to Gresham, as he signed with Boston after being selected in the 4th round of the 2002 MLB draft. He would later make it to the big leagues with the Red Sox and also the Milwaukee Brewers.
Two future Riverside City College big leaguers, pitcher Jesse Chavez and outfielder Thomas Neal, were Knights' signees but never made it north as they signed with Texas and San Francisco, respectively.
Chavez was set to pitch for the 2003 Knights, but signed as a draft-and-follow in May after being picked the previous year by Texas in the 42nd round. Neal was also a draft-and-follow sign, as he agreed to terms with the Giants in May, 2006, after being drafted in the 36th round in 2005. He was set to play for the 2006 Knights.
Neal has played in the big leagues for Cleveland, the Yankees and Cubs. Chavez is a starting pitcher for the Oakland A's; he's also pitched for the Pirates, Braves, Royals and Blue Jays.
Future big leaguers David Robertson (Yankees) and Cole Gillespie (Mariners, Cubs, Giants, Diamondbacks) almost signed with the Knights.
Former Knight Joe Guthrie recruited Robertson, an Alabama pitcher, but David ended up signing with a Cape Cod League team and was named MVP of the 2006 CCL playoffs. Robertson was close to pitching in the West Coast League, however Alabama's coaches urged him to pitch in the Cape instead.
Gillespie, a star at West Linn High School and at Oregon State, hoped to play with the Knights in 2003 with his brother Brett following a redshirt freshman season at OSU. He ended up sitting out the summer, and never donned a Knights' uniform. He did play for the Wenatchee AppleSox in 2004.
2014 has seen its share of almost Knights as Trace Loehr and Kevin Padlo both signed after being picked in the 6th and 5th rounds by Oakland and Colorado, respectively, in this year's June MLB draft. Loehr, an OSU commit, actually played in the Knights exhibition opener at Goss vs. the Portland Sea Dogs. Padlo, a San Diego commit, didn't make it to Corvallis and signed with the Rockies.
Other almost 2014 Knights include a slew of pitchers who went down to injury or soreness including projected starters Stephen Nogosek and Jordan Spencer of University of Oregon; Slater Lee of Cal Poly; Mike Martin of UC Irvine and Alex Nesbitt of University of Washington. The Knights also lost Alex Hardy of Washington, Zach Kayser of Western Oregon and Christopher Vargas of UC Irvine to injury. In total, the team's pitching staff was hit hard losing 8 arms.
Maybe another future big leaguer will emerge from the above list of almost Knights.