Five Corvallis Knights Selected to the 2007 West All-Star Team.
July 18, 2007
Jim Murphy, Matt Wyckoff, Mike Koons, J.R. Murphy and Matt Way to Represent Corvallis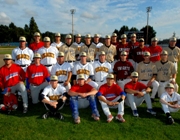 First baseman Jim Murphy of Washington State, outfielder Matt Wyckoff of George Fox, pitcher Mike Koons of San Diego State, pitcher J.R. Murphy of San Diego State and pitcher Matt Way of Washington State were selected to play in the WCCBL's second annual All-Star Game held Tuesday, July 17 in Bellingham, Washington.
Mike Koons did not pitch as he was signed by the Houston Astros the morning of the game.
Matt Way pitched a scoreless inning while striking out two. Way was named the game's "top prospect" as announced by Carl Moesche of the Major League Scouting Bureau and voted on by the over 10 MLB scouts in attendance.
Wyckoff and Murphy did not collect hits and J.R. Murphy gave up two runs in his one inning of work.
The All-Star Game was played at historic Joe Martin Field in Bellingham before a crowd of nearly 1,000. The East won 4-1. Outfielder Brandon Kuykendall of Kitsap and Wenatchee's Ryan Davis of Vanderbilt were named co-MVPs.
Corvallis' head coach Matt Dorey assisted All-Star Game skipper Matt Acker of Kitsap.