Kevin Farley of Portland Hopes to Earn Spot on 2014 Knights.
June 6, 2014
10-Day Signees Key to Corvallis Success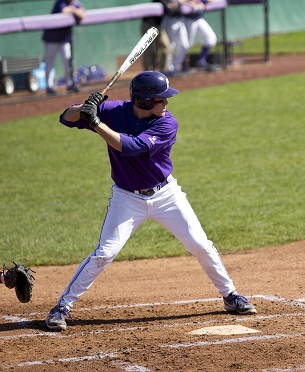 Kevin Farley is eager to move to Corvallis and ready for the challenge of the West Coast League.
His University of Portland Pilots did not play as well as they'd hoped so the versatile sophomore infielder, a 10-day signee, hopes to make up for that disappointment with a favorable experience with the Corvallis Knights.
"I haven't had the chance to play in the West Coast League," the 6-foot, 190-pounder from San Ramon, Calif., said before the Pilots' 8-4 loss to Oregon State at Volcanoes Stadium in Keizer on May 13.
"I know it's one of the best leagues in the country, so I'm ready to get down to Corvallis and play some good baseball."
Farley certainly will get an opportunity to show his stuff. The Knights play 14 of the 54 league games in the first three weeks, while many players are still in school.
Immediate contributions will be expected from Farley and other 10-day signees so the Knights do not drop out of contention for their eighth consecutive division championship. They often are the face of the program in the first two or three weeks of the season.
"Ten-day players are critical to teams as the majority of our regular players typically don't report until one or two weeks into the season," so teams must play somewhat shorthanded in the first 10-12 games of the summer, Knights' head coach Brooke Knight said.
"This is a great opportunity for these players to audition. Sometimes they earn regular spots, like returning Knights' Chris Bishop, Marc Gallegos and Dane Lund," three temporary signees who eventually nabbed WCL postseason honors after earning full-time roster spots.
2011 playoff hero Kramer Scott, also a Pilot, was a 10-day player before earning a spot on the Knights.
Farley drilled a solid pinch-hit single against the Beavers on May 13 at Volcanoes Stadium and finished the season hitting .207 (17-82) in 34 games, with two homers and 15 RBIs. He also posted a .995 fielding average, with just one error in 186 chances.
Farley played in the Knights' June 4 nonconference opener and should get opportunities early in WCL series against Bend, Yakima and Walla Walla.
"I'm ready to get after it and play the game I love," Farley said. "I've been a baseball player all my life and I think I can play any position on the field.
"I'm ready to play all summer with the kind of passion I bring."
Farley played for the Tri-Valley Bercovich Collegiate team in the Golden State Collegiate Baseball League last summer, near his hometown of San Ramon, Calif. He hit .255 (27-106) in 31 games, with three homers and 21 RBIs.
"It was a local league, mostly Division II and junior college players, with some Division I players sprinkled in," he said.
The Knights have a long relationship with Portland. So, even though Farley has never played for the team or in the WCL, Pilot teammates and former/current Knights Mike Lucarelli, Colin Feldtman, Caleb Whalen and Cody Lenahan have told him what to expect.
"They loved it, and said it was one of the most exciting summers of their lives," Farley said. "So I'm really excited about it."
Current UP teammates Lucarelli and Jackson Lockwood will join Farley on this year's Knights.
Kevin was a two-year letter winner at California High School in Sam Ramon and led the Grizzlies in home runs and into a CIF sectional final at the Oakland Coliseum as a senior. He also quarterbacked the football team into the playoffs as a junior and senior and to the CIF section championship game his junior year.
He also quarterbacked the East Bay All-State Team to victory in the Holiday Classic All-Star Game as a senior.
To learn more about WCL 10-day players and how they have thrived in the league, click here.