Twelve Knights Earn All-WCL Honors.
August 22, 2013
Corvallis Skipper Brooke Knight Named WCL Coach of the Year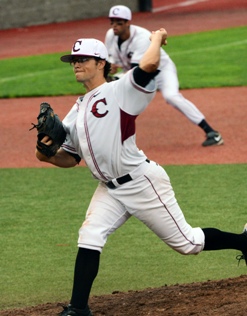 West Coast League president Dennis Koho announced the league's award winners and All-WCL teams yesterday afternoon. The WCL champion Corvallis Knights were the most represented club with four first-team honorees, three second-team picks and five honorable mention selections. And Knights' skipper Brooke Knight was named the West Coast League Coach of the Year.
This is the fourth time Brooke has earned WCL Coach of the Year honors, as he was also named in 2008, 2009 and 2011.
WCL ERA leader Elliot Surrey of UC Irvine (pictured) earned first-team All-WCL recognition along with shortstop Peter Van Gansen of Cal Poly, center fielder Blake Drake of Concordia and catcher Dane Lund.
Surrey posted the league's lowest ERA at 1.27 and led the Knights' in overall wins with 6. For the summer, he went 6-1 over 11 appearances, 7 starts and 56.2 innings pitched.
Slick-fielding Van Gansen posted a .988 fielding percentage and only committed two errors the entire summer. Overall, Peter hit .304 with 3 triples, a homer, 30 runs scored and 31 RBIs, and he stole 13 bases. In the playoffs, Van Gansen knocked in 7 runs.
Drake was arguably the most dynamic player in the West Coast League. The junior-to-be from Ramona, California led the Knights in at bats with 222, runs with 44, hits with 67 and tied for the team-lead in doubles with Kevin Kline of Dixie State with 15. Blake hit .302 for the summer (.291 in WCL regular-season action) with 3 home runs and 35 RBIs. He stole 24 bases overall and tied for the league-lead in outfield assists with 8. Drake also appeared in the WCL All-Star Game and walked and stole a base in two plate appearances.
Lund led the Knights' in WCL hitting with a .343 regular-season batting average and hit .308 overall. He stole 25 bases and led the club with 11 sacrifice hits. The versatile Lund, who played his junior year at San Jose State, was solid behind the plate and in left field. Dane's WCL regular-season OBP (.452) and OPS (.845) were the highest on the team. Lund started the WCL All-Star Game at catcher and scored the game's first run in the South's 7-5 victory.
Third baseman Cody Lenahan of Portland, starting pitcher Chris Bishop of Pacific Lutheran and reliever Brandon Choate of Tacoma CC were second-team selections.
Lenahan led the WCL in triples with 4, was second in RBIs with 36 and his 60 hits were fourth best in the league. For the summer, Cody hit .308 over 208 overall at bats (.314 in WCL regular-season play). The left-handed hitting junior-to-be also started at third in the WCL All-Star Game where he went 1-for-5 with a run scored.
Bishop emerged as a starter after several quality relief appearances. Chris went 5-2 with a 2.66 ERA over 13 appearances, 5 starts and 50.2 WCL regular-season innings pitched. The junior-to-be right-hander made one playoff appearance vs. Medford in game two of the WCL South Divisional Series at Goss tossing two innings in the Knights' 7-3 win.
Hard throwing Brandon Choate, a junior-to-be at University of Washington, led the club in ERA at 0.50. Brandon made 15 WCL relief appearances, recorded 5 saves and went 1-1 while striking out 17 over 16.2 innings pitched. Choate appeared in the WCL All-Star Game closing out the North as he was tabbed to pitch the final inning in the South's 7-5 win before a record-crowd of 4,210 at Royal Athletic Park in Victoria.
Five Knights were named Honorable Mention All-WCL including first baseman Kevin Kline (.302, 4 HR, 34 RBI), outfielder Grant Melker of San Diego (.282, league-leading 26 stolen bases), starting pitcher Casey Bloomquist of Cal Poly (4-0, 3.45), starting pitcher Andrew Naderer of Grand Canyon (3-1, 2.48) and closer Jorge Perez of Grand Canyon (1-1, 1.30, 6 saves).
Kline tied for the overall team-lead in RBIs with Lenahan with 37 and doubles with Drake with 15. Melker led the team in walks with 30 for the summer, and set a wood-bat era single-season team record with 31 stolen bases (breaking Marc Gallegos 2012 mark of 26). Naderer recorded a WCLCS win at Wenatchee pitching 8.1 innings of one-run ball. Perez earned two wins in the post-season and finished the summer with an exclamation point, an epic two-hit shutout of the AppleSox in the Knights' WCLCS clinching 1-0 win at Goss Stadium.