Knights Open with 10-4 Win at Goss.
June 2, 2016
Science, Engineering & Art Day Game Draws Record Crowd of 3,381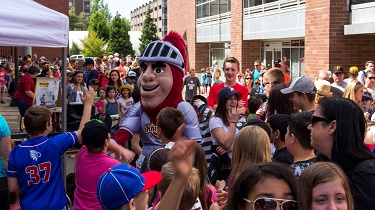 The Corvallis Knights opened their 2016 season in grand fashion with a 10-4 non-league game win vs. the Portland Sea Dogs before a record crowd at Goss Stadium of 3,381 on PEAK Internet Science, Engineering & Art Day presented by the OSU Colleges of Science and Engineering.
Wednesday's crowd of 3,381 was the largest single-game non-fireworks night attendance mark in team history.
The Sea Dogs, an adult team from Portland, featured three Knights alums in catcher/skipper Scott Baumer, Knights Baseball Club, Inc. board member Eric Gunderson and Knights 2003 Top Pitcher Michael Devaney.
From beginning to end, Goss Stadium was jumping with elementary school students on a sun-bathed Wednesday morning in Corvallis.
Schools from Albany, Alsea, Clatskanie, Corvallis, Dallas, Jefferson, Lebanon, Monmouth, Monroe, Newport, Salem, Silverton, Sweet Home, Tangent and Toledo enjoyed a fun-filled day of baseball, science, engineering, art and technology.
Science, Engineering & Art Day featured 14 exhibits including stations presented by OMSI, the OSU Colleges of Science and Engineering, OSU School of Arts and Communications, PEAK Internet and the Corvallis Knights.
The Knights manned two popular exhibits. Kids lined up all game long to get a chance to measure their pitching velocity. They also visited a chalk drawing and autograph station featuring Knights pitchers Chase Kaplan and Aaron Pope. Chase and Aaron signed Corvallis Knights schedule posters for the entire game.
The hardest throwers on record were Logan of Franklin Elementary in the boys ages 6-9 grouping at 52 MPH, McKenzie of Liberty Elementary in the girls 6-9 age group at 43 MPH, Tyler of Oak Heights Elementary in the boys 10-13 ages grouping at 66 MPH and Cassidy of Timber Ridge Elementary in the girls 10-13 category at 56 MPH.
Two recaps of Wednesday's home opener were featured on the cover of today's Gazette-Times paper.
Corvallis opens the 2016 WCL season at Bend tomorrow. Start time is 6:35 pm. You can listen to Friday night's game on KEJO 1240 AM. Mike Parker, the voice of the Knights, calls all the action.
The Knights WCL home opener is Tuesday, June 14th vs. Kelowna.