PLU's Chris Bishop Eager for Second Shot With Knights.
April 9, 2013
Junior Right-Hander Eyes Closer Role This Summer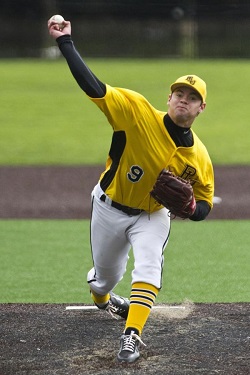 By Allison McDaniel, Knights Media Intern
For some the third time is the charm. For Pacific Lutheran's Chris Bishop (pictured), hopefully it is the second time around that brings some luck.
Bishop, a sophomore righty at PLU, has found his way back to the Knights for another round of summer ball for the 2013 season. Bishop said he has been working hard this year and wants to be the best closer possible for the Knights.
"My role as a closer this year is a result of having five or six quality pitchers who could get starts for us this season," Bishop said. "(PLU) Coach Geoff Loomis saw me as a guy with great velocity who will come in and get right after hitters and that is exactly what a closer should be."
Bishop worked hard as a Knight in 2012 but left with the expiration of a 10-day contract. Although he had to leave, he will return as a stronger player and closer, and help bolster the Knights' staff.
"Last summer after I left the Knights was kind of a drag," Bishop said. "I ended up pitching probably six or seven times for a tournament team based out of Olympia on my off days, but other than that, there wasn't much time for me to be around baseball.
"Last year it was a little intimidating, coming in as a freshman onto a team that had won the WCL championship the year before. Being a 10-day and Division III player, I felt like I had to prove myself. This year I'm looking forward to coming in and just playing like I'm capable, without any added pressures on me."
Bishop is a hard-working player and says he is thankful for the opportunity given to him by the Knights this summer.
"The fact that the Knights gave me a chance to prove myself last year and a full season contract this year is absolutely amazing and a huge blessing," he said.
A native of Rochester, Wash., a small town with a small (1A) high school, Bishop said very few players from his high school have gone on to play baseball after school.
With another season at PLU under his belt, he has set several goals for his second shot with the Knights.
"My main goal this summer is to get noticed by a few scouts," he said. "It has been a dream of mine to play professional baseball my whole life, and that would be the next step toward reaching that goal.
"On top of that, I would like to increase my velocity and work on spotting up my secondary pitches on a consistent basis."
As the righty makes his way back to the Goss Stadium this summer, there is no stopping his ambition. Bishop has worked hard for his spot at PLU, and during his stint with the Knights last summer.
Whoever said the "third time is the charm" is not the case for Bishop this summer. For him, it takes two times to tango.