Knights Get Chilly in Support of Special Olympics Oregon.
February 9, 2013
GM Bre Kerkvliet and Mack the Knight Take the Polar Plunge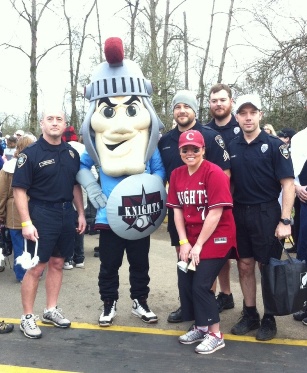 The Corvallis Knights joined local law enforcement and other local businesses and organizations in support of Special Olympics Oregon this morning at Crystal Lake Park as team GM Bre Kerkvliet and mascot Mack the Knight took a plunge in the icy cold waters of the Willamette River.
Photograped are Bre (in Knights' jersey #7), Mack the Knight and Corvallis Chief of Police and Aloha High School legend Jon Sassaman (far left).
All across the state, Oregon Law Enforcement invited businesses and community members to take the Polar Plunge.
Thousands of Oregonians took the challenge braving the cold to raise money for Special Olympics Oregon.
"That was wicked cold," said Bre Kerkvliet. "It was good to see everyone supporting the Special Olympics. Mack and I really enjoyed. Mack's pretty good in the water."
As normal, Mack the Knight had no comment.
To check out Mack and Bre in the Willamette, click on the below links to see the Knights' Polar Plunging.
Photo 1. Mack and Bre race out of the Willamette River.
Photo 2. Polar Plunge time.
Photo 3. Deep in the water!
Photo 4. Must Click. Bre and Mack get dipped.