Alum Ryan Matranga of University of San Francisco Honored.
May 4, 2016
Dons Catcher Earns Prestigious USF Carpe Diem Award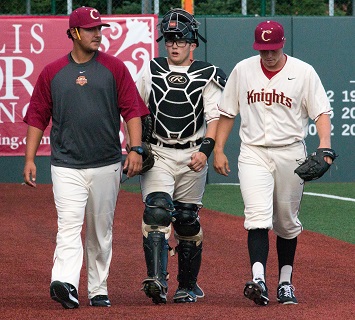 Corvallis Knights alum Ryan Matranga (pictured with Knights pitching coach Connor Lambert and 2015 ace Slater Lee of Cal Poly) received one of the University of San Francisco's most prestigious athletic honors on May 1 when the senior catcher received the Carpe Diem Award.
It is awarded annually to a male and female USF athlete for their commitment to using the resources of strength, conditioning, sports medicine, nutrition and mental performance to enhance and maximize their athletic performance. USF athletic department staff votes on the award, which was presented at the school's fifth annual Hilltop Awards ceremony, held at War Memorial at the Sobrato Center.
The Hilltop Awards are the Dons version of the ESPYs. Hosted by USF student-athletes, they feature video highlights and bloopers in addition to acceptance speeches by the various award-winners.
Matranga played for the Knights in 2015, following his junior season at USF. He hit .230 (32-139) in 40 games, with a homer and 12 RBIs, and earned all-West Coast League honorable mention honors.
"We are not surprised at all that Ryan would receive such an important award," Knights president Dan Segel said. "He exhibited great leadership last summer and he personified what we expect from our players on the field and in the community."
A four-year letterman from Mission Viejo, Calif., who played at Santa Margarita Catholic High School, Matranga is a business major. He was named to the West Coast Conference All-Freshman team in 2013, and was a first-team all-West Coast League selection in 2014 while playing for the Kitsap BlueJackets.
Matranga is hitting .213 (26-122) in 40 games this spring, with no homers and 16 RBIs. The Dons visit the University of Portland this weekend.