Knight Alum Greg Peavey of Oregon State Named Pac-10 Pitcher of the Week.
March 1, 2010
USA Baseball Recognizes Peavey as Golden Spikes Spotlight Player of the Week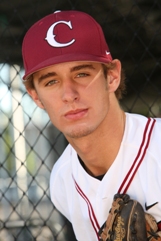 Former Knights' right-hander Greg Peavey (pictured) of Oregon State University (5-2) tossed a three-hit shutout and struck out 9 vs. Tennessee yesterday at Goss Stadium at Coleman Field. It was Peavey's first collegiate complete game shutout.
Peavey shined in the Beavers' rubber game with the Volunteers from the SEC as OSU beat the Vols 1-0 in a pivotal contest that lasted only 2 hours and 7 minutes much thanks to Peavey's efficiency on the mound.
The outing was arguably Peavey's best as a Beaver and earned the junior from Vancouver, Washington not only Pac-10 Pitcher of the Week honors, but also USA Baseball Golden Spikes Spotlight Player of the Week recognition.
The first two Golden Spikes honorees of the season are both ex-Corvallis Knights as Peavey's 2007 summer teammate (and roommate) senior southpaw Daniel Bibona of UC Irvine earned the honor for the week of Feb. 19-21.
Peavey and Bibona both earned All-West Coast League honorable mention in 2007.
Greg was the Knights' closer and collected 4 saves over 12 appearances while posting a 1.14 ERA and striking out 26 over 23 2/3 innings pitched.
Danny made 11 appearances (4 starts) and went 2-2 with a 2.29 ERA while striking out 39 over 35 1/3 innings pitched.