Bellarmine Outfielder Phil Leopold Shines Late with Knights.
August 11, 2014
Longtime Friendship Brought Leopold to Corvallis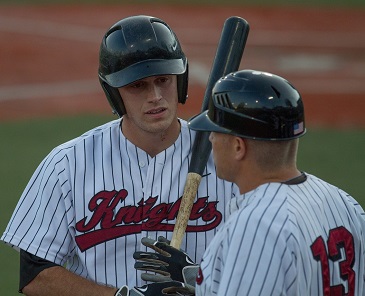 A friendship forged in South Texas more than 30 years ago is paying big dividends for the Corvallis Knights this summer.
Oregon State head baseball coach Pat Casey and former Kentucky star Jim Leopold were teammates on the 1983 and 1984 Beaumont Golden Gators, San Diego's affiliate in the Texas League. Their paths eventually diverged, but their wives, Susan Casey and Nancy Leopold, became close friends during their time together and they maintained contact through the ensuring decades.
Fast forward to 2014.
The Leopold's son, rising Bellarmine University senior Phil Leopold (pictured with Knights' head coach Brooke Knight), was looking for a new experience for his final season of summer baseball. The Caseys suggested he contact the Knights, and Phil subsequently signed a 10-day contract, with no guarantees the versatile player would stick for the entire season.
But the rest, as they say, is history.
Leopold earned a full-time position and became a valuable piece of the Knights' 2014 South Division championship team. Heading into Tuesday's playoff opener at Bend, the 6-foot, 190-pound Louisville native is hitting .275 (14-51) in 28 league games, with three homers and 14 RBIs, and has given coach Brooke Knight an effective left-handed bat.
Phil had several full-time offers to play closer to home. But he decided to take a chance with the Knights, meet the Caseys for the first time, and let the chips fall where they may.
"I thought, this is the last summer I can do this, I'd heard a lot of good things about the Knights, so I thought this would be a great opportunity to finish my summer ball career," Leopold said. "It's been great.
"My mom and Mrs. Casey always kept in touch and my mom has seen Mrs. Casey a lot, but this is the first time I've been out to Oregon and met the Caseys. It's been cool for my family and theirs.
"Everybody talked about the rain out here, but there hasn't been much. It's been a great time."
Leopold played sparingly at first and had only 10 at-bats in the Knights' 22 games in June. But he homered and had three RBIs in a July 4 win over Klamath Falls and then had two doubles, three hits and three RBIs in successive nonleague games on July 15-16 to earn more chances.
"I thought if I kept working I'd get my shot," he said. "The guys ahead of me were performing well, so I wasn't getting angry. Just keep working hard, and I finally got my shot."
He did not waste it. Leopold hit .467 (7-15), with two homers and 9 RBIs, between July 28 and Aug. 3 and was nominated for WCL Player of the Week honors.
"I started getting some at-bats and was seeing the ball well," Leopold said. "Coach Knight has helped a lot with my swing; he tweaked a few things that have really paid off.
"I'm trying to stay simple with my swing, not having wasted movement, things like that. I got my opportunity, so it all just kind of worked out. It's not surprising; it's more relieving.
"I'm finally seeing results on some things I"ve been working on all summer. It's kind of coming together."
He was especially effective against the Klamath Falls Gems. He had three homers and 10 RBIs in five games at Kiger Stadium.
"It would be nice" to play more games there, he acknowledged. "But I think we're all hitting pretty hot there."
Leopold said he believes the success he's had this summer will carry over to Bellarmine next spring. He's a three-year starter for Bellarmine, which, coincidentally, is also nicknamed "Knights."
"I've learned a lot here I can take back to Louisville, and can give the team some hitting tips that coach Knight has told me," he said. And he'd definitely recommend a summer in the Pacific Northwest to his teammates.
"Definitely," he said. "If they are interested and if the Knights are interested and are willing to take them, it would be a great thing."
When asked about Leopold's contributions to the Knights, team president Dan Segel said, "Phil has been great, great teammate and he's made a big difference down the stretch as he's been one of our most consistent hitters and a kid that knows how to play winning baseball."